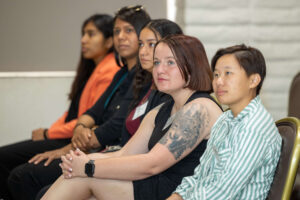 After the 2020 fire that destroyed our headquarters, we knew that we wanted to continue to serve clients with intention and to grow to become a leader in workforce readiness programs. As we near the end of 2022, we are proud to announce that we are on track to exceed our goal of serving 5,000 clients by the end of 2023.
Growth and Sustainability for a Better Community
The work that we do at Working Wardrobes is made possible by the loyalty and generous commitment of supporters and community members. As an organization, we are committed to understanding and offering the educational touchpoints that our clients and donors appreciate, like computer/software workshops and quarterly impact reports of our progress. Throughout the year we engaged in seeking to understand: corporation needs, Board members' wisdom and expertise, the successes of our efforts with job seekers, and the desires of our retail customers. These generative conversations have led to sustained participation from our community in the co-creation of our collective future.
With our increased focus on sustainability, we thank you for your support and participation in the Rebuilding Careers Coalition, the Jerri Rosen Legacy Fund, and the Success Club in 2022. These giving collectives power our Workforce Readiness Programs — ongoing programs that bring training, workshops, job development, technology resources, critical needs assistance, retention services, and more to job seekers across Southern California. Alongside our ongoing services, we hosted events this year that engaged volunteers and staff in directly serving men, families, women, Marines, students, and justice-involved individuals on their journeys to become workforce-ready.
Because of these outreach efforts (in jails, on bases, on campuses) and services provided at the Career Success Center and online, Working Wardrobes earned a place on the OC Register's list for Best Charitable Organizations in Orange County. Our VetNet Program was also awarded the Vetty Award for Veteran Employment this year. Our community knows how critically important the services Working Wardrobes provides are in this community. You showed us when you helped us rebuild after the 2020 fire, and you told us again in 2022 with this distinction. Thank you for your partnership!
Leadership at Every Level of the Organization
2022 was defined by inclusivity, collaboration, and encouraging unique contributions from each member of the Working Wardrobes team  — from our volunteer board members to our career navigators, retail managers, career coaches, wardrobing experts, workshop leaders, and every volunteer. We aimed to focus on teamwork, efficiency, and fostering a sense of ownership at every level of the organization. We know that we are never going to be perfect, but every day our team members are committed to being 1% better than we were yesterday.
We also focused this year on investing in internal infrastructure. The world continuously moves forward, and we've committed to adapting with it, streamlining menial tasks by harnessing the power of technology to free up our teams to use their creative capabilities to solve problems that only people can solve.
We made a push to increase the tools each team member had to perform their role in a way that fully utilized their gifts and passions. We implemented increased training, encouraged openness, and spoke candidly about the ins and outs of Working Wardrobes internally and externally through our Rebuilding Careers Podcasts. Our loyalty to developing our team members and their careers earned Working Wardrobes a spot on the Orange County Business Journal's list of Best Places to Work. We are thriving AND striving to improve, grow and ensure that Working Wardrobes is able to help job seekers for the long haul! 
The Future of Working Wardrobes and Workforce Readiness Programs
In the years ahead, Working Wardrobes will continue to meet Orange County job seekers right where they are to help them achieve their goals for sustained and meaningful employment. We seek to continue to grow as an organization so that we can serve more individuals seeking empowerment, tools and the resources to become even better versions of themselves. With empowerment comes new choices, and we lean on the empowerment of our community members who can help by offering a hand up to the job seekers we have the honor of serving.
Working Wardrobes assists job seekers in Southern California and beyond by providing no-cost assessments, training and certifications, career coaching, individualized employment plans, and wardrobe services. We have helped over 115,000 clients overcome barriers to employment and the dignity of work. For more information, please visit www.workingwardrobes.org.
To support Working Wardrobes in the new year, visit https://www.workingwardrobes.org/rebuilding-careers-coalition. When you join, you partner with a collective of individuals dedicated to bringing sustainable, life-changing employment to the residents of Orange County.