On June 17, Working Wardrobes hosted a day of transformation and preparation to enter the workforce for nearly 100 transitioning Marines and Sailors.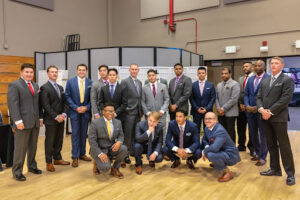 Together, 150 volunteers actively participated in every aspect of the 2022 Power Up for Success event to help Marines and Sailors navigate their transition out of military service and into the civilian workforce. Programs included a panel of Veterans who shared stories of their own successful transitions and experiences on the path to employment post-military service. One of Working Wardrobes' very own career coaches led a workshop to guide Marines and Sailors in translating their military skills to a civilian resume and identifying potential careers. Through an onsite job fair, the event provided Marines and Sailors with direct connections to national industry employers. Participating Marines and Sailors received professional wardrobing services and headshots, and left  with a Success Suit to wear at upcoming interviews.
At the end of the day, these service members conveyed feeling better prepared for the  transition ahead, as well as a sense of relief and appreciation knowing organizations like Working Wardrobes exist and are readily available to support them every step of the way!
Here's What Marines and Volunteers Had To Say About the Event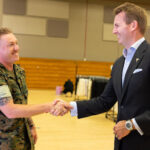 I personally want to thank Working Wardrobes for sponsoring this event and helping out these Marines. We learned a lot today, and I look really good in this new suit. I feel like a new man. I can't wait. Because of you, I feel ready to start my new life.
— US Marine, Camp Pendleton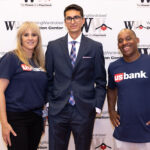 This is a really great way to give back to our Marines, who do so much for us. It's been a great pleasure and so much fun! Watching them come out of the dressing room happy makes us really happy.
— Volunteer, US Bank
Working Wardrobes thanks the amazing volunteers for helping, and community partners for the in-kind support, time, energy and heartfelt participation this year.
To the Marines and Sailors in attendance, thank you for your service and we wish you much success on your journey to The Power of a Paycheck ™.
Working Wardrobes provides services and workforce readiness programs for Veterans year-round. Learn more about Working Wardrobes' VetNet program and how your donations help transitioning active duty, reserve, guard, Veterans, and their families return to work.
View more photos of the event here.
About Working Wardrobes
Working Wardrobes is Orange County's foremost workforce readiness nonprofit, providing the tools to at-risk individuals, young adults, and Veterans so they can achieve the dignity of work. Founded in 1990 by Jerri Rosen, Working Wardrobes has been serving Southern California for over 31 years by providing assessments, job training, career placement, and wardrobe services to more than 115,000 clients to overcome barriers to employment and achieve The Power of a Paycheck™. For more information, please visit www.workingwardrobes.org