Rebuilding Careers Program
We offer no-cost services to anyone facing self-described barriers to gainful employment. Our clients are unemployed, underemployed, Veterans, active-duty Servicemembers, justice-impacted, seniors, survivors of domestic violence, etc. We'll connect you with valuable employment resources and supportive services to address barriers to attaining gainful employment.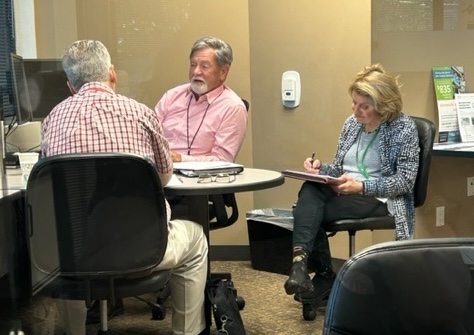 1. Submit a Referral
Whether you're a provider or an individual doing a self-referral, you can fill out a referral form and email it to our Career Navigation team at clientreferral@workingwardrobes.org to learn more and get enrolled.
2. Identify Critical Needs
Your Career Navigator will serve as your case manager and can meet you where you are, virtually, or at our Career Success Center.
Together you will work on the following:
Create your Individualized Employment Plan
Set attainable goals
Learn job search skills
Connect with job leads
3. Connect with Career Development Team
We utilize subject matter experts in the Human Resources field who volunteer as Career Coaches to assist you with job search skills, mock interviews, career coaching, navigating ATS, creating your LinkedIn profiles, and services like:
Career assessments
Resume updates
Soft, and hard skills training
Certification programs
Virtual and in-person workshops
4. Ready to Interview? Find your Success Suit
Clients who are enrolled and actively engaged in our services and have an upcoming job interview are eligible to find an outfit that empowers you to take on your job interview with confidence!