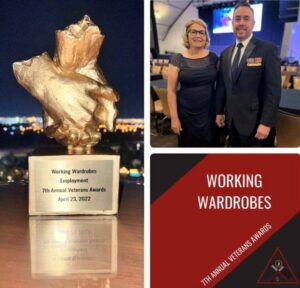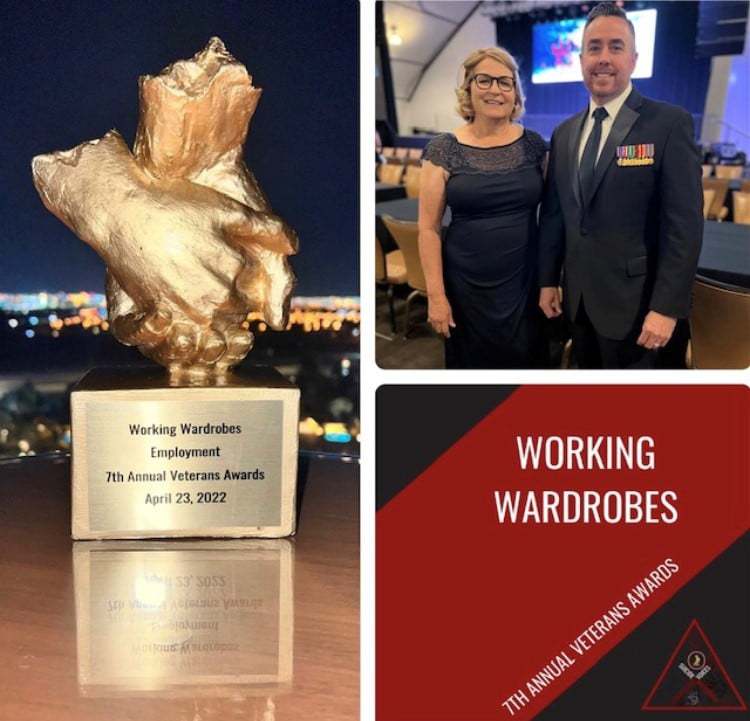 Working Wardrobes is proud to announce that our VetNet Program has been awarded the Vetty Award for Veteran Employment. "To be a top three national nominee for the Academy of United States Veterans, 7th Annual Veterans Awards is an honor in itself," says Working Wardrobes Director of the VetNet Program Michael Barrett. "But to be selected as the winner from amongst the category nominees is truly and gratefully humbling."
About the Vettys
The Veterans Awards, also known as the Vettys, is an annual award ceremony presented by the Academy of United States Veterans (AUSV). The awards honor members of the Veteran community in the United States in various categories. This year's ceremony was hosted at the M Resort Spa Casino in Las Vegas. The 7th Annual Veterans Awards was the second initiative in the AUSV's campaign on the mental health epidemic that surrounds many military and civilian families.
About the Working Wardrobes VetNet Program
The Working Wardrobes VetNet Program helps servicemen, women, Veterans, and their families return to civilian life. The program offers personal Career Navigators that help build customized plans for employment. These services include career readiness services, including resume enhancement and personal brand management, lead tracking, networking services, critical needs assistance, wardrobing services, and much more.
About the Award
VetNet programs address three major components that directly impact the prevention of suicide: behavioral health peer support, homeless outreach and resources through workforce readiness employment services. The AUSV recognized all three pillars of the VetNet program as positive measures that successfully prevent suicide and promote self-sufficiency.
"This national recognition of the lifeline we provide to Veterans reassures us that these services for Veterans and their families are mission critical," says Pomush. "Working Wardrobes takes care of our country's bravest by holistically helping them achieve The Power of a Paycheck ™ . We know this work is literally life changing, and we are proud to lead the way." 
Pomush took the helm as CEO of Working Wardrobes in January 2022. Helping Veterans return to the workforce is one of the agency's key initiatives.
"Being of service to improve our community is why I get up every morning," says Pomush. "As the daughter of a Marine, and wife of an Army Veteran, I have seen first hand the sacrifices and selfless dedication of protecting our American freedoms. It is paramount that we give back to these brave souls who give of themselves to ultimately protect the empowerment of others. I am grateful to lead an organization that honors the service and sacrifice of our nation's military service men and women, Veterans, their families, and caregivers! It is truly our great honor to help them."
About Working Wardrobes
Working Wardrobes is Orange County's foremost workforce readiness nonprofit, providing the tools to at-risk men, women, young adults, and Veterans so they can achieve the dignity of work. Founded in 1990 by Jerri Rosen, Working Wardrobes has been serving Southern California for over 30 years by providing assessments, job training, career placement, and wardrobe services to almost 115,000 clients to overcome barriers to employment and achieve The Power of a Paycheck™. For more information, please visit www.workingwardrobes.org.