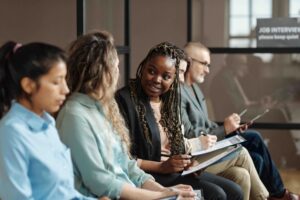 There's nothing more important to us at Working Wardrobes than helping the people in our community who have faced setbacks, challenges, and had doors shut in their faces.  It's our mission to be a part of their success, whether it's learning new skills or having the necessary tools to thrive in today's job market in Southern California.
The smile of a program graduate makes our effort and the contributions from our community so worthwhile!
Those who are the most dedicated know that the biggest change happens at the individual level. When people have access to resources, critical needs, and a reliable paycheck to care for their own necessities, the benefit extends beyond them, overflowing to their families, friends and neighborhoods.
The way to bring meaningful change starts with helping job seekers find sustained work. Working Wardrobes is the epicenter for career success in Orange County, hosting dozens of programs to help people find jobs. Job seekers can take advantage of resume building, skills training, wardrobing, critical needs assistance, networking, and much more.
When donors join the Working Wardrobes Success Club, they do more than power these services — they provide continued support and influence alongside a community of donors that actively seek to make a difference. It's a simple commitment, but to individuals that are looking for work, it means infinitely more.
Why Join the Success Club?
Donors contribute monthly an amount that works for them.  Like drops of water in an ocean creating large waves, monthly contributions from many individuals come together to create a large impact. Success Club Members are a group of dedicated supporters who share values and fuel Working Wardrobes to provide services to every type of job seeker, addressing their individual needs. 
As a member of the Success Club, you will be kept up-to-date on how your philanthropy is changing the lives of job seekers. You will receive frequent updates, videos, insider reports, and special surprises!
How Does a Monthly Gift Help?
$10 monthly: Provides a client gift cards for gas, meals and more!

$25 monthly: Gives a client access to our impactful workforce readiness workshops.

$50 monthly: Enrolls a client in virtual and in-person career programs, plus professional wardrobe services.

$100 monthly: Awards a scholarship to a client with full computer technology training.
Success Club is Rewarding for Donors and Job Seekers: Donor Success Story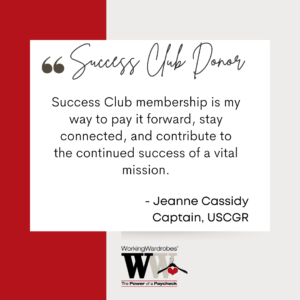 Members of the Success Club create a lasting impact on those in our community who are ready to get back to work. Hear first-hand from one of our Success Club donors:
"As a Veteran and former staff member, I've had a front-row seat to see how the Working Wardrobes' programs changed the lives of clients and their families. 
Even a modest, consistent amount can have a profound impact on the lives of people who want to make a better life for themselves and their loved ones. Please consider joining me and others who want to make a difference."
—Jeanne Cassidy; Captain, USCGR
Join the Success Club! Learn more here: https://www.workingwardrobes.org/success-club/.
About Working Wardrobes
Working Wardrobes is Orange County's foremost workforce readiness nonprofit, providing the tools to at-risk individuals and Veterans so they can achieve the dignity of work. Founded in 1990 by Jerri Rosen, Working Wardrobes has been serving Southern California for over 31 years by providing assessments, job training, career placement, and wardrobe services to over 115,000 clients to overcome barriers to employment and achieve The Power of a Paycheck™. For more information, please visit www.workingwardrobes.org.