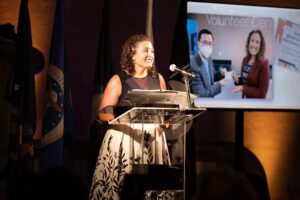 It takes a village. Doing what we love doing spans much wider than the Working Wardrobes team; there's a powerful community right beside us.  We saw some of this support at our 2022 Working Wardrobes gala, Growing Through the Decades. The event was a huge success, and we raised over $430,000. Thanks to the enormous generosity of our donors, supporters, and the Orange County community, through annual and planned giving, the funds raised bring career readiness services and programs curated to help unemployed and underemployed individuals prepare for the dignity of work in Orange County. These services include access to technology, resume creation and critique, virtual and in-person workshops, certifications, one-on-one job coaching, interview preparation, and countless other services.
Growing Through the Decades was my first Annual Gala as CEO of Working Wardrobes, and I am filled with pride and confidence, knowing that the future will thrive with the continued dedication of our supporters. The seeds of planned giving planted now will bloom into even more successful client stories in the years to come. I truly believe that actions taken today result in significant success down the road.
This year's gala was the starting point of a stellar season in the life of Working Wardrobes. We encourage you to keep the momentum going by offering community support and donations. Whether or not you are able to give now does not mean that your actions today cannot result in lives changed later. You can commit now to giving an after-life bequest to Working Wardrobes through the Jerri Rosen Legacy Fund.
Support the Growth and Sustainability of Working Wardrobes with the Jerri Rosen Legacy Fund
Over three decades ago, Jerri Rosen planted the seeds of change by starting Working Wardrobes, and we continue her dedicated efforts to create a brighter future. I, myself, have committed a portion of my life insurance policy to Working Wardrobes. By giving now AND making a commitment to planned giving through an after-life bequest to Working Wardrobes, join me in embracing our ability to make a positive impact on future generations of job seekers.
The future of Working Wardrobes will thrive as we secure it today. Our growing sustainability means that we will continue to serve more clients across Orange County – now and into the future. These enterprises are possible because of the Legacy commitments our supporters make today.
At Working Wardrobes, we know that a donation like this is more than just money — it's a monument to your values and your legacy. Our supporters, like Richard Ward, have already answered the call and committed to making Working Wardrobes a beneficiary. Richard made this decision because of his innate desire to see people live richer lives that they are able to build for themselves with the right tools. Supporters, like Richard, that want their legacy to support the future of Working Wardrobes don't have to give up immediately. They can commit to giving an after-lifetime gift by joining the Jerri Rosen Legacy Fund.
By making Working Wardrobes a beneficiary of your estate plan, you lead by example. Your family, friends, colleagues, and others that look up to you will know how important philanthropy and empowerment are to you. We would be honored if you would accept our invitation to join the Jerri Rosen Legacy Fund donors who have made the commitment to leave an after-life gift to Working Wardrobes.