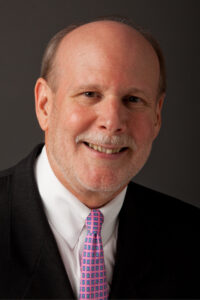 The 2022 non-profit fundraiser working, Wardrobes Growing Through the Decades gala, is a night for us to honor the accomplishments of the past and to celebrate how a legacy of virtue has blossomed into meaningful change for Orange County job seekers in the present. Throughout the night, we will present awards to individuals who have enthusiastically shared in making the Working Wardrobes' mission come alive over the years. One of those honorees is Richard Ward, a longtime friend and contributor to the Jerri Rosen Legacy Fund.
Those like Richard who join the Legacy Society have made a commitment to donate a portion of their assets to Working Wardrobes in their estate plans. Named in our Founder's honor, the Jerri Rosen Legacy Fund is designed to create a far-reaching impact in the lives of our clients and bolster the sustainability of our mission for years to come. Richard Ward is leading by example and making his commitment to leave a bequest to Working Wardrobes known now. He knows that this helps accomplish his personal legacy to give people the tools to build better lives for themselves and that ensuring Working Wardrobes success long into the future means more lives are empowered and enriched as a result.
Gala Honoree Richard Ward Supports Working Wardrobes' Mission with the Jerri Rosen Legacy Fund
In 2017, Richard came to know Working Wardrobes through The Center Club, a mission-minded organization that awarded Working Wardrobes a CARES grant. Over the years since, he has continued to experience and support our efforts to empower job seekers.
"My mission is to help more people live richer lives," says Richard. "This includes both those with the potential to change lives for the better, as well as those who need some help to change their own life's path. I can't think of many opportunities to better fulfill this promise than through Working Wardrobes, whose supporters are providing the means for more people to realize the dignity of work and change their path for good." 
Richard recognizes that other goals can impede a person's ability to give, but explains that giving is not just for the uber wealthy — being philanthropic is available to all of us. He notes that many types of after-life gifts are possible, like a portion of a life insurance policy, retirement account, or a bequest of other assets. Each of these gifts can play a significant role in sustaining Working Wardrobes for decades to come.
Richard has made his legacy gift to Working Wardrobes known — a gift that celebrates the 30-year legacy of Jerri Rosen and will ensure that Working Wardrobes' impact continues, even after Richard's life.
Support the 2022 Working Wardrobes Gala Today!
At this year's event, which takes place on Saturday, September 24 in the garden of the Bowers Museum, we will celebrate Richard Ward among other honorees that uphold Working Wardrobes' mission. If you are not able to attend in person, we invite you to participate in the event's silent auction, which is already live. Register to participate today. You do not need to attend in-person in order to bid and support this cause!
About Working Wardrobes
Working Wardrobes empowers and prepares individuals for the dignity of work. Founded in 1990 by Jerri Rosen, Working Wardrobes serves approximately 5,000 job seekers in Southern California and beyond each year. By providing no-cost assessments, training and certifications, career coaching, individualized employment plans, and wardrobe services, we have helped over 115,000 clients overcome barriers to employment and The Power of a Paycheck™. For more information, please visit www.workingwardrobes.org.