Orange County nonprofit exceeds yearly gala fundraising goal on the heels of being named one of OC's Best Charitable Organizations by the Orange County Register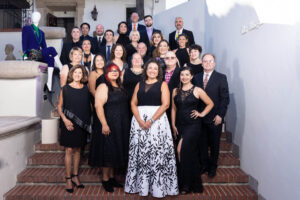 Working Wardrobes raised OVER $430,000 at its annual fundraising gala, Growing through the Decades, on September 24 at the Bowers Museum in Santa Ana. This funding will enable over 175 clients to receive service through the rebuilding careers program.
"Growing Through the Decades was my first Gala as CEO of Working Wardrobes, and every volunteer, community partner, donor, and staff member that made this event a success has filled me with so much gratitude and optimism," said Working Wardrobes CEO Bonni Pomush. "I feel confident in the future knowing that events like the gala and the continued dedication of our supporters will power Working Wardrobes for many years to come."
The donations raised from the Growing Through the Decades Gala support services and programs that are curated to help unemployed and underemployed individuals find work in Orange County. Services include resume creation and critique, job coaching, IT certification, one-on-one job coaching, wardrobing, interview preparation, virtual and in-person workshops, and countless other services.
"We cherished celebrating Working Wardrobes "Growth Through the Decades" in a beautiful venue that showcases human growth and experiences through time," said Pomush. "We are thankful for the generosity, collaboration, and philanthropy of our supporters. Their dedication changes the world by transforming lives, families, neighborhoods, and the entire community."
This year's event took place in the garden of the Bowers Museum in Santa Ana, California. Guests enjoyed live music during the cocktail hour and silent auction in the museum's sculpture garden followed by dinner in the courtyard with a live auction and award presentation.  Winning bidders left with luxury apparel items, Anaheim Ducks tickets on the glass, unique entertainment and style experiences, international and domestic vacation packages, and more.
"Growing Through the Decades", the event theme, focused on how seeds of support and encouragement planted years ago have blossomed to grow and sustain Working Wardrobes. The organization celebrated its roots, growth, and future including an award presentation from the Founder, Jerri Rosen, to Legacy Donor, Richard Ward. Client honorees included Cindy Hodgkins and Hans Devouassoux, U.S. Navy Veteran, who experienced firsthand the life-changing services Working Wardrobes provides to thousands annually. Presentations to honor Toni and Terry McDonald, members of the Rebuilding Careers Coalition, and Kristi Willette for her philanthropy targeting services for Veterans served by the organization. All of the honorees' life-changing contributions have made an immeasurable impact on Orange County.
The presenting sponsor for the event was U.S. Bank, whose commitment to Working Wardrobes has been long-standing and impactful. Additional sponsors included Boot Barn and the H & H Lee Charitable Foundation at the Masterpiece level. Artifact Sponsors include Pacific Premier Bank, Windsor, Boeing, and Sylvia Michler. Curator Sponsors include Carolyn and William Beaver, Mechanics Bank, Pacific Western Bank, PeopleSpace, South Coast Plaza, UBS, Apriem Advisors, Robert Half, Ingram Micro, Leaderology, and Withum Advisory Tax Audit.
View our full gallery of photos from the event here!
On the heels of this year's gala success, Working Wardrobes was awarded designation as one of Orange County Register's Best of OC Charitable Organizations and is featured in the 29th annual edition of OC Register's Best of Orange County.
The clear support of the community through this award and the gala's donations will help Working Wardrobes serve 8,000 job seekers annually by 2024 and address the unemployment and underemployment crisis in Orange County. 
"In Orange County, the high cost of living requires individuals earning minimum wage to work 2-3 jobs in order to pay for just the basic necessities. This is not sustainable and is why it is important to help job seekers up their skills and seek assistance with holistic services that remove barriers between them and the dignity of work. We know helping one person can impact an entire community," said Pomush, "and these efforts require true partnership. Individuals and corporations like those that supported our Gala event and awarded us this Best of Orange County award help achieve this mission through training, workshops, funding, and a pipeline to jobs for our clients."
The connections to this mission are endless, and the leadership that guides the organization are experts in a wide variety of industries. Working Wardrobes continues to expand and diversify the Board of Directors and aims to grow its social enterprise and sustainable solutions that fund the ability to serve more clients.
"Working Wardrobes was founded on the principle that one person can make a difference, and that power rests in each of us today," says CEO Bonni Pomush. "That is, every individual has unique gifts and strengths to contribute to the world, and Working Wardrobes invites all of us [clients, volunteers, donors, corporate partners, nonprofit and government collaborators, retailers, etc.] to help create sustainable changes in the lives of people in our community. When we own our power to contribute to the world, the transformations that result in clients of Working Wardrobes reverberate throughout our community – lifting each of us, as well as the collective."