The Jerri Rosen Legacy Fund, named after Working Wardrobe's founder, is a collective of supporters that have committed to leaving after-life bequests to Working Wardrobes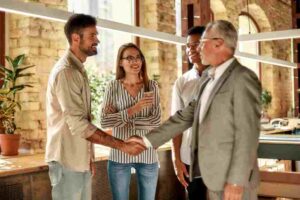 . This commitment brings sustainability to the organization, ensuring that clients have access to one-on-one coaching, job training, resume assistance, networking, and the myriad other services Working Wardrobes provides for generations to come.
There are many ways to contribute to the Jerri Rosen Legacy Fund. Legacy giving is a flexible way to practice philanthropy today, and leave a legacy of giving beyond your lifetime. Making after-life charitable gifts seems intimidating to some, but it's far more accessible than you might think.  Join us in "debunking" the four most common myths about Legacy giving.
Myths About Legacy Giving
Myth #1:
I Can't Become a Legacy Fund Donor Because I Have Nothing to Give Working Wardrobes Now
Actually: The Jerri Rosen Legacy Fund is a perfect solution for those who wish to support Working Wardrobes, but may not have the means to give at this time. Your commitment to the future of Working Wardrobes sets a positive example for those closest to you, as well as other philanthropists in Southern California. You can set this example and make your bequest known without touching your current income. Your gift will support the long-standing mission of bringing meaningful employment to job seekers in Orange County, without costing you anything today.
Myth #2: Giving Now is Better Than Legacy Giving
Actually: Your commitment to giving later is just as valuable as giving here and now. When you commit to making an after-lifetime bequest to Working Wardrobes, you build a legacy of generosity for yourself and your family. The Jerri Rosen Legacy Fund goes toward supporting the long-term sustainability of Working Wardrobes, meaning that clients years from now can receive resources at the same and higher levels of quality as clients now. The seeds of donations that you plant today will bloom into changed lives in the future.
Myth #3: Shouldn't I Give Any Extra Assets to My Heirs?
Actually: We like to think of leaving an after-lifetime bequest to Working Wardrobes as simple math. If you have three heirs, you might split your assets evenly between them, meaning each heir would receive 33.33% of your estate. If you reserve 3.33% of each heir's inheritance and commit that portion to philanthropy, your heirs will be amply well provided for (and not likely "miss" the 3.33%). A worthy cause that speaks to your values, like Working Wardrobes, would then receive 10% of your assets. Those funds are more than just money, they are also a legacy that demonstrates to your heirs and the community how you lived your values and brought positive change to the world.
Myth #4: I Need to Be Wealthy to Join the Jerri Rosen Legacy Fund
Actually: Because there are countless ways to participate in legacy giving, you can choose the method that works the best for you and your financial situation.
Ways to leave an after-life bequest to Working Wardrobes include but are not limited to: leaving a cash bequest; bequest of property, such as securities, an interest in real estate, or tangible personal property like a vehicle, art, or jewelry; residuary bequest — a designated percentage of the remainder of your estate; a testamentary trust; or by making Working Wardrobes a beneficiary of your insurance policies or retirement plans, including IRA, Keogh, tax-sheltered annuity, qualified pension, or profit-sharing plan. Your financial planner, along with Working Wardrobes' staff, are more than willing to begin a conversation with you about the options best for you.
How Can I Become a Jerri Rosen Legacy Donor?
You become a part of the Jerri Rosen Legacy Fund as soon as you make Working Wardrobes aware of your intentions to participate in legacy giving. You can do this today when you visit the Legacy Fund page and sign a declaration of intent.
Leave a legacy and help bring The Power of a Paycheck ™ to Orange County job seekers.