Rebuilding Careers Report:
Southern California's Critical Needs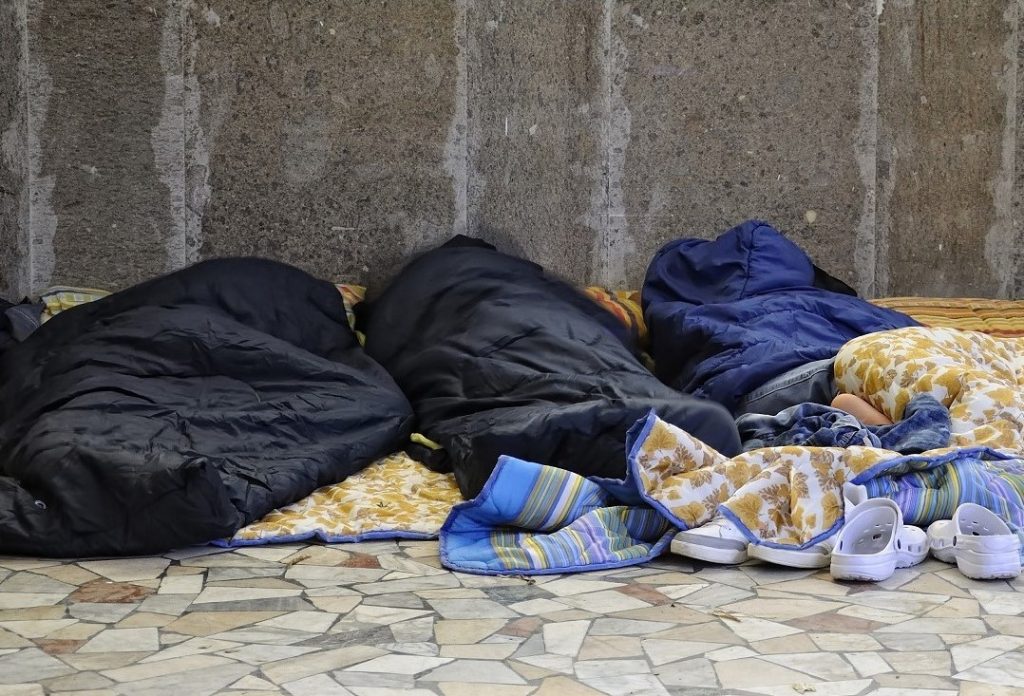 Southern California's Critical Needs in a Post-COVID Economy
COVID changed our world, our nation and our local community.  Its crippling health effects have robbed us of family members, friends and colleagues.  It has caused numerous businesses to shut their doors, forced millions out of jobs across the U.S. and driven hundreds of thousands of local residents out of work here in Southern California.  The pandemic fundamentally damaged our economy.
In our recent Rebuilding Careers Report highlighting the staggering unemployment rates among women, known as the 'she-cession,' COVID's impact on the women's workforce in Southern California is magnified exponentially.
Sadly, experts predict that full economic recovery will be a years-long journey, yet there are many people in our community whose immediate needs, such as housing, childcare, transportation, and necessities and are not being met. Before we look to the future of our economy in the months and years to come, we must first address the critical needs of Southern Californians right now.
The Pandemic's 'SoCal Amplification'
To the rest of the world, Southern California – synonymous with luxury and wealth – may seem to be immune to the wrath of a pandemic. The reality is that the uniqueness of our community has made it particularly vulnerable to COVID's economic fallout.
To begin, the cost of living in Orange County alone is 87% higher than the national average1.  When it comes to employment, we rely heavily on pandemic-susceptible organizations.
Small businesses, which were the first and hardest hit by COVID (the largest small business owner decline on record2), account for 95% of jobs in Orange County3.
At 32,000 jobs, The Walt Disney Co. is Orange County's largest employer4. Unfortunately, the Leisure & Hospitality industry accounts for nearly 40% of jobs lost during the pandemic5.
What's more, housing in Southern California – and particularly in Orange County – is some of the most expensive in the nation.
In the U.S., the median home price is $347,5006. For people living in Southern California, the median home price is $750,0007 and in Orange County, it's a staggering $1.1 million8.
A resident of Orange County would have to make $34.33 an hour, or $71,406 per year, to afford a median-priced one-bedroom apartment at a monthly cost of $1,7859.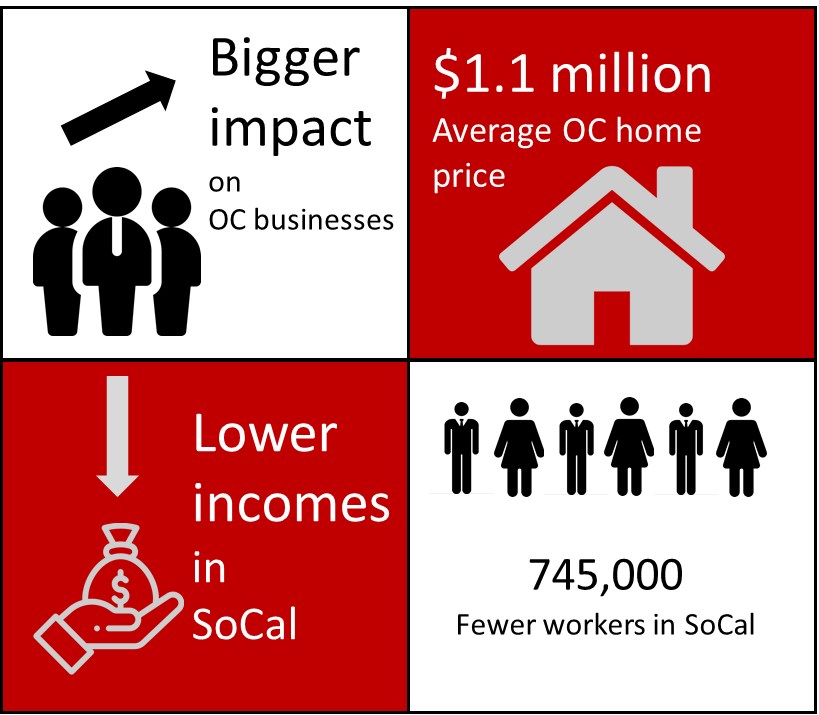 A minimum-wage worker in Orange County would need to work 106 hours per week, 131 hours per week or 183 hours per week to afford a one-, two-, or three-bedroom apartment, respectively10.
Regarding income, Southern California is home to a large and diverse population of minority groups who traditionally earn less.
The average Southern California poverty rate is 16.4%11 compared to the average national poverty rate of 10.5%12.
56% of Orange County residents earn annual incomes in the "Very Low" to "Moderate" range (less than $10,000 to $99,000)13.
Simply put, we were not immune to COVID-19.  The pandemic's impact on our community was swift and harsh.  Today, there are nearly 754,000 fewer workers in Southern California compared to pre-pandemic employment14.
With high unemployment rates in one of the costliest areas of the nation, and federal unemployment benefits set to end in early September 2021, our area faces serious problems – the most critical of which are the inability for residents to afford basic needs and a lack of access to resources that help them get back to work.
Southern Californians:  Four Key Critical Needs Issues
Working Wardrobes has identified four primary critical needs issues facing Southern Californians in the wake of the pandemic.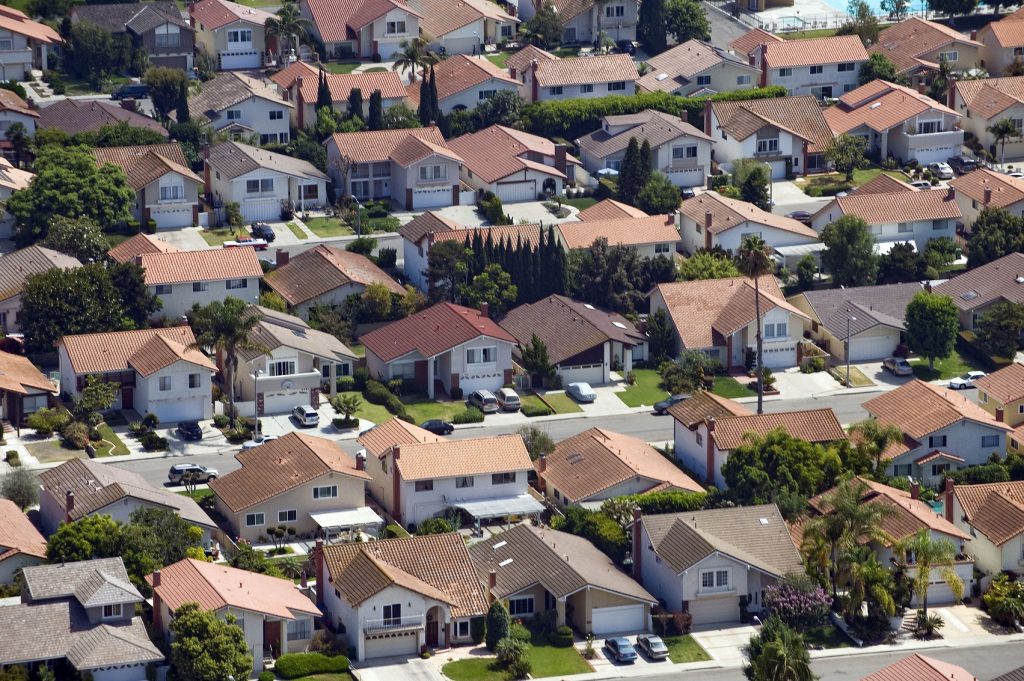 Photo courtesy of Orange County Register
#1.  Housing Affordability and Security
Southern California has long been known for its exorbitant housing costs and wage increases have not kept up with skyrocketing property values and rent.  This has been particularly challenging for low-income residents, or those earning under $20,000 per year who spend an average of 30+% of their incomes on housing here15.
When it comes to Orange County specifically, roughly 50% of our area's most prevalent occupations earned less than the minimum required to afford a one-bedroom apartment prior to the pandemic16. What's more, there were over 3,000 residents living in sheltered homeless arrangements in
Orange County in 2020, 36% of whom were adults with children17.
With hundreds of thousands of local residents out of work today, housing affordability and security is mission critical.  Two state laws that took effect in August 2020 and in February 2021 to provide statewide eviction and foreclosure protections for tenants and property owners with economic hardships are set to expire on June 30, 2021.
If individuals living here are unable to locate or find multi-family or roommate living arrangements before these moratoriums expire, the rates of homelessness and/or the need for sheltered homeless arrangements will likely escalate.
#2.  Childcare Affordability and Availability

Consider these statistics.
There are 228,332 children under the age of six living in Orange County21. Roughly 35% of households here include children22.
In Orange County, full-time center-based childcare for an infant or toddler runs an average of $15,650 a year; the annual cost to care for a preschooler is $10,000; a family with two young children in full time care spends an average of $26,150 a year23.
Approximately 60% of parents and other potential caregivers in households with children ages 0-4 work24.
47% of parents cite increased family responsibilities as causing performance issues at work. This increases to 52% of parents with children under the age of five25.
22% of parents with children under the age of six report they will not be returning to work26.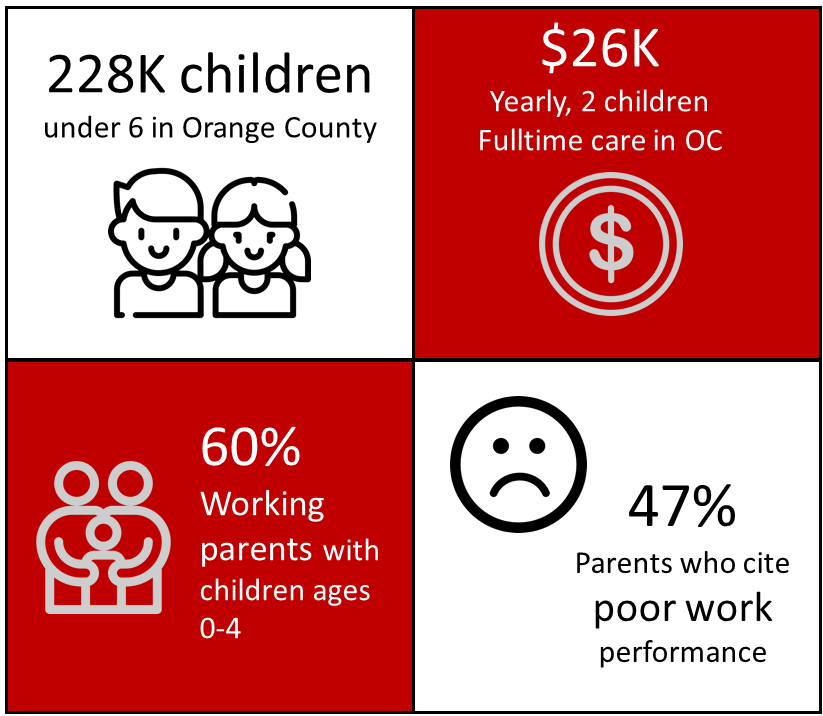 COVID served as a giant wakeup call to the fundamental importance of childcare and in particular, its importance to women who left the workforce in droves to care for their families during the pandemic.  Childcare plays a critical role in enabling both parents to work, and work productively – yet for years, childcare has largely been undervalued and underfunded.
The pandemic has brought us to a crossroads.
Today, 51% of employers state they would provide workers with additional childcare support if the government provided incentives to do so, such as tax benefits or subsidies27.  We're not there yet.  In the meantime, 40% of childcare centers believe that without additional public assistance, they will close permanently due to the pandemic28.
For those who are looking for work in Southern California, this could mean limited childcare availability and increased costs above and beyond the enormous childcare expenses they already pay.
Childcare is absolutely imperative for the health and sustainability of our local economy.  Now, more than ever, parents need our help.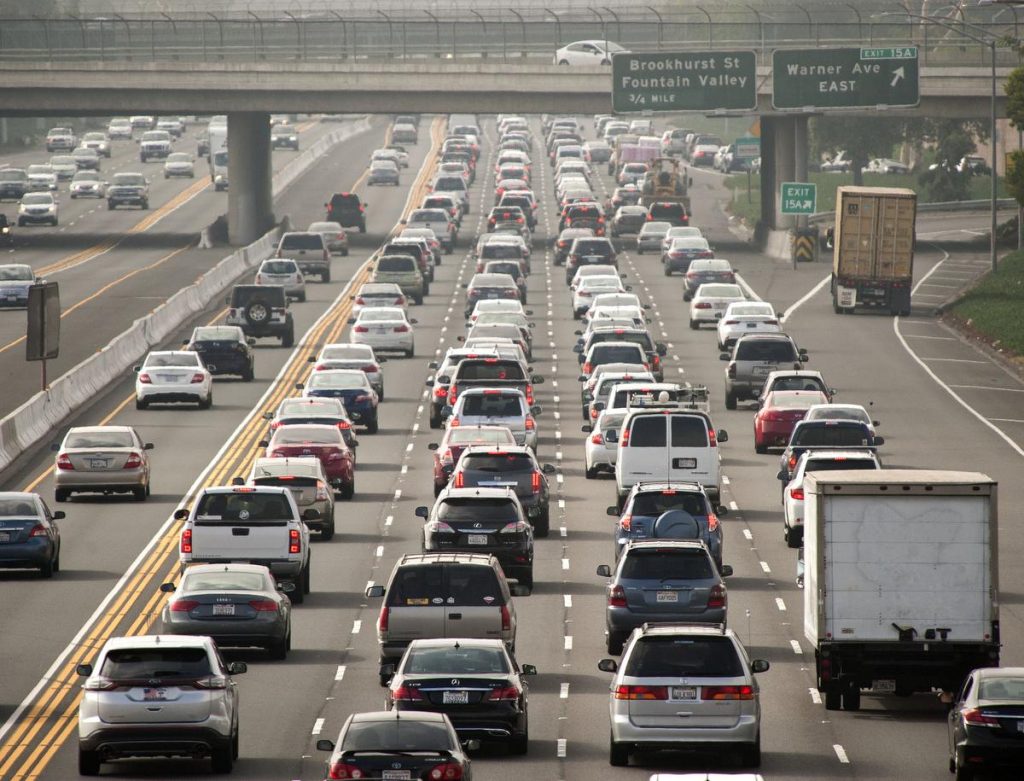 Photo courtesy of Orange County Register
#3.  Ease and Cost of Transportation

Even though the pandemic proved that telecommuting works in certain industries and job roles, there are still hundreds of thousands of jobs in our community that require employees to be on-site. Transportation is critical to getting people back to work as we journey to economic recovery.
Unfortunately, the ability to afford gasoline is next to impossible for many who lost their jobs during COVID and now face serious financial hardships. Gasoline prices have been steadily rising, day-after-day, and currently hover around $4.00 per gallon18.  As people return to the roads, our area's notorious traffic congestion, long commute times and stop-and-start driving means increased gasoline usage and in turn, higher costs.
Despite heavy investments in public transportation over the past 15 years, transit ridership among all Californians has declined.
To account for this decline, experts speculate that the number of vehicle purchases among lower-income riders has increased19.
Post-COVID, it remains to be seen whether financial burdens will prevent lower-income residents from purchasing vehicles, or whether a shift to public transit will occur.  Regardless, the average cost of a bus pass is approximately $840 per year20, which could be much more than financially strapped commuters can afford.
#4.  Accessibility to Technology  
When people think of critical needs, technology usually doesn't make their list.  However, the pandemic has transformed our perspective.  Today, telecommuting, telehealth, e-commerce, online education and digital communication tools such as video conferencing are vital components of our daily lives.
They've become the norm, not the exception.
As much as the pandemic reinforced the importance of technology, it also exposed technological shortcomings in our community.  For example, a recent survey of local homeschooling parents uncovered interesting insights into Southern California households29.
Parents were asked what resources would be helpful versus what resources schools were actually providing.  The gaps between these two responses were represented as percentages. Their perspective regarding technology was revealing.
68% Gap: Providing free Internet access to families.
62% Gap: Technical assistance to help families with distance learning.
51% Gap: Lending mobile technology devices.
Major concerns included:
41%: Not enough devices in the home.
29%: Lack of reliable high speed Internet access.
23%: Closing technological barriers.
These challenges mirror the ones expressed by numerous Southern California job seekers during their consultations with our career development team.  A lack of devices, reliable and affordable Internet access, and computer knowledge are among the most significant challenges our clients face on their journeys to jobs.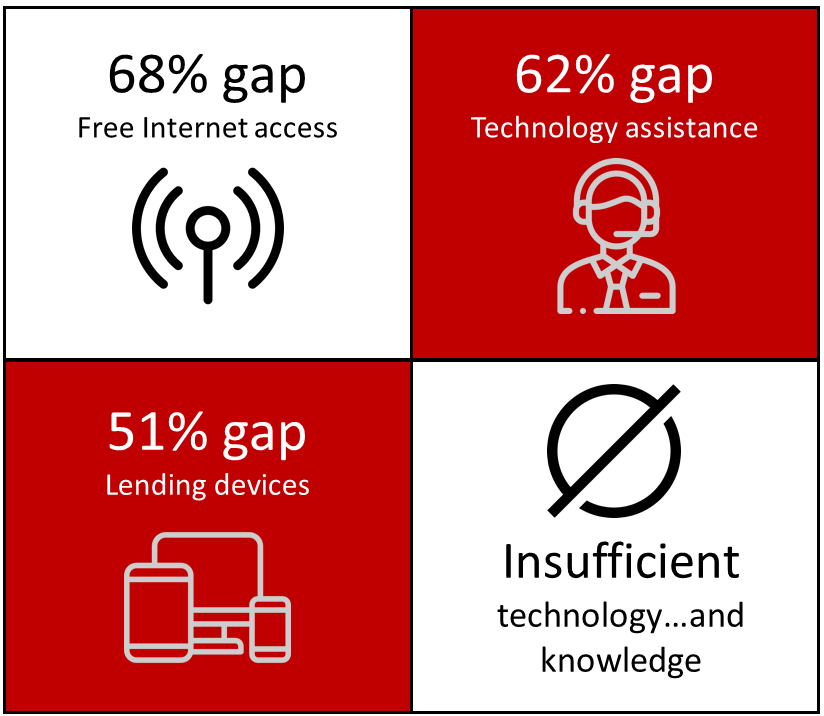 Many at-risk individuals in Southern California don't own computers, they can't afford the Internet and they have very little computer knowledge (if any).  In turn, they're unable to access career resources, develop a resume, apply for jobs, conduct interviews, or perform key requirements of their job if, in fact, they do get a job.
Without question, technology has evolved from 'luxury to emergency.' It is a necessity – one that is critical in helping Southern Californians get on their feet again.
Working Wardrobes: Supporting Immediate and Long-Term Needs
Working Wardrobes has developed important programs to address these specific issues in our community – today, and in the future.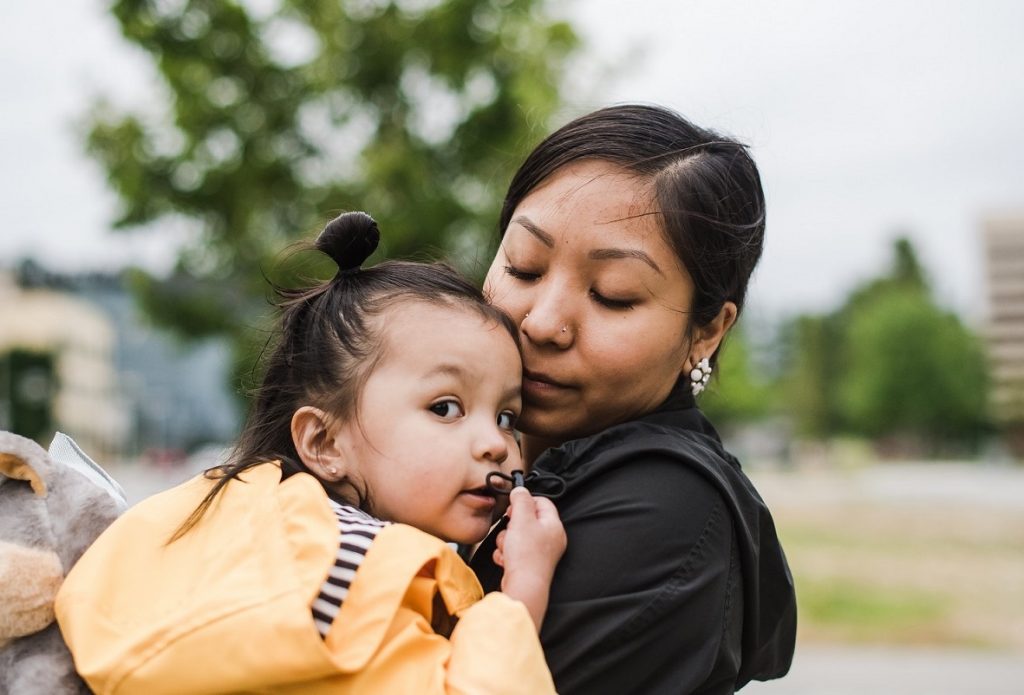 First, our Critical Needs Fund supports Southern Californians in immediate crisis.  Generous individual and corporate donors contribute to the fund, which enables us to provide emergency finances for housing, clothing, gasoline, groceries, bus passes, utility bill payments (including broadband), childcare and more. The crises we address and support run the gamut from rent, to food, to mental health referrals and emergency medical care payments – even eyeglasses for those with poor vision.
In order for people to find jobs, and for our economy to recover as a whole, the most immediate needs of our at-risk neighbors must be met first.  We are here to help people in crisis.
Further, our Rebuilding Careers scholarship program addresses the pandemic's long-term ramifications.
Each $1,000 scholarship provides local at-risk clients with workforce readiness services, computer technology courses, laptops, and professional clothing, at no charge to them.  Supporters, both private and corporate, can choose to fund an entire scholarship or a partial scholarship.
From a macro-level employment perspective, we believe the following criteria must be met in order for Southern California to emerge victorious from this economic crisis.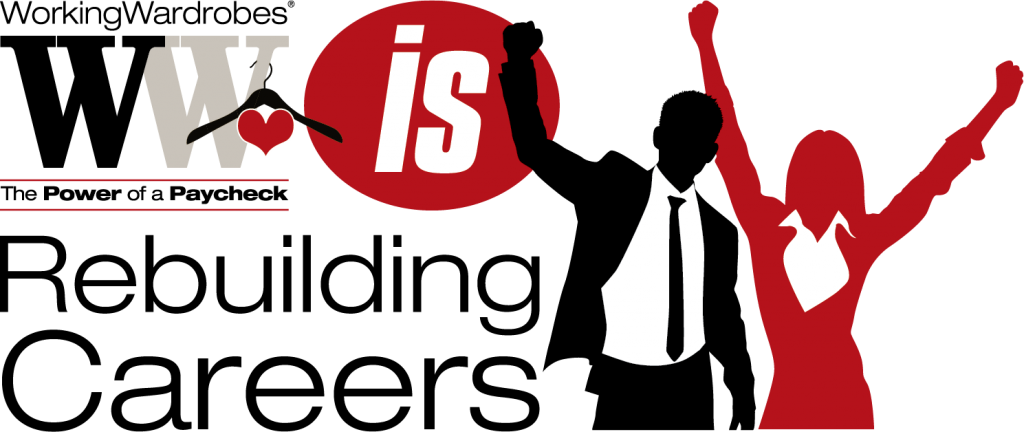 Jobs must be mapped to industries that are in active recovery, or the industries that were impacted least by COVID.
Career skills must be retooled, when warranted, to help people thrive in jobs within these industries.
People must receive the workforce readiness services they require for long term career success, including computer technology training, certifications, hard and soft skills career workshops, and job search and placement services.
Residents of our community must earn living wages to live safely, securely and with dignity. This is the heart of the economic issue as we see it.
Southern California is certainly unique.  Our industries, businesses, jobs, economics and demographics are diverse and distinct compared to the rest of the nation, but with individuality comes progress.  Our community consists of some of the brightest, most forward-thinking and hardest working people in the world.  COVID might have bent us, but it won't break us.
Visit the links below to donate to the Working Wardrobes Critical Needs Fund and the Rebuilding Careers Scholarship program.
https://www.workingwardrobes.org/critical-needs/
https://www.workingwardrobes.org/rebuilding-careers-unemployed/
Thank you, in advance, for your support.
Are you, or someone you know, out of work?  Do you need help?  Please call (714) 735-4409 to speak with a career coach today!
OC Community Indicators, 2020 – 2021
S. NCBI, August 2020
OC Community Indicators, 2020 – 2021
OC Community Indicators, 2020 – 2021
Department of Labor National Jobs Report, February 2021
Fred Economic Data, Q1 2021
California Association of Realtors, April 2021
California Association of Realtors, April 2021
OC Community Indicators, 2020 – 2021
OC Community Indicators, 2020 – 2021
S. Census Data, 2019
CA SCDD, 2019
OC Community Indicators, 2020 – 2021
Orange County Register (Journalist Jonathan Lansner) April 2021
OC Community Indicators, 2020 – 2021
OC Community Indicators, 2020 – 2021
OC Community Indicators, 2020 – 2021
California Energy Commission, May 17, 2021
California Transit Association, 2018
OCTA, 2021
org, 2020
org, 2017
Orange County Register (Journalist Theresa Walker) October 2020
Orange County Register (Journalist Theresa Walker) October 2020
OC Community Indicators, 2020 – 2021
OC Community Indicators, 2020 – 2021
OC Community Indicators, 2020 – 2021
OC Community Indicators, 2020 – 2021
OC Community Indicators, 2020 – 2021