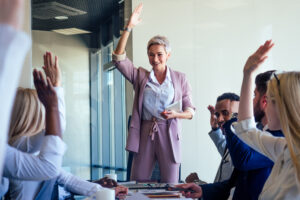 Life happens fast. At Working Wardrobes, we know that anyone can find themselves suddenly without work for many reasons, including layoffs, family or housing changes, medical obstacles and more. People, who were skilled for the jobs they had, now find themselves needing workforce readiness programs to help transfer existing skills, or obtain new skills or certifications for their next job.
Working Wardrobes' mission is to provide the resources that job seekers need to secure meaningful and reliable work, by overcoming the barriers they face. There are many facets to workforce preparedness, and Working Wardrobes' programs address needs that are highly practical. They include individualized career coaching, resume building, soft skills training, networking, certifications, or even wardrobing services. 
Working Wardrobes connects clients with Career Coaches that guide them on their journey to employment. Coaches get to know a client through personality, skill, and career assessments, and guide them to create individualized employment and support plans. Sometimes, job seekers need big-picture help. Career coaching can help clients understand the current industry market and how their skills are transferable, gain confidence, obtain new skills or certifications, and prepare for the interview. Working Wardrobes provides dozens of services like resume building, networking, career workshopping and access to community resources  — all to help people become workforce ready and ultimately experience the dignity of work and The Power of a Paycheck™!
Your Monthly, Recurring Contributions Empower Job Seekers: Client Success Story
Your involvement in our Success Club, a collective of individuals making monthly recurring donations, has a lasting impact on those in our community who are ready to get back to work.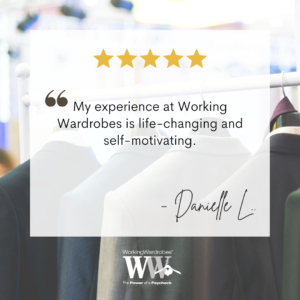 Danielle recently came through our Rebuilding Careers program. She had been laid off and was interested in making a career change. She had spent the last 15 years in customer service and was eager to transition into a similar role in the IT industry. She was working on certifications at a local community college to help increase her IT knowledge but needed assistance targeting her resume for her newly identified career path.
Danielle worked with a Working Wardrobes Career Coach who assisted her in updating her resume and transferring her experience in customer service to the skills needed for IT Help Desk jobs. With the guidance of her Career Coach, she worked diligently to research companies and positions that fit her interests and applied.
Danielle secured an interview at an IT startup. She again worked with a Career Coach who assisted her in practice interviews to ensure she felt confident and prepared to articulate her abilities. In addition to preparing her on the 'inside', Working Wardrobes matched her with a personal stylist who helped outfit her in a Success Suit for the interview. Her updated "insides" now had an "outside" to match!
After two weeks, Danielle called to let us know she landed her dream job working as an IT Help Desk Support. She was so excited to start her new job and grateful for the support she received. 
"My experience at Working Wardrobes is life-changing and self-motivating," says Danielle. "Each and every one of the staff members was professional, helpful and positive when assisting me and other participants in getting back to work. The Wardrobe department was beautiful, and my personal shopper made it easy to find suits to get back into the workforce. I will forever be grateful to Working Wardrobes and its staff who have changed my future for the better."
Why Join the Success Club by making monthly donations?
To join the Working Wardrobes Success Club means making a simple commitment to donate up to $100 monthly. By setting up a recurring monthly contribution of $10, $25, or any amount, you make a life-changing impact. Your monthly donation stretches even further in concert with other donors contributing to ultimately change individuals, families, and communities for the better. Joining a community of donors that actively seek to make a difference is as empowering for the job seeker as it is for the donor. Become a monthly contributor to creating self-sufficiency through the dignity of work today!
Join the Success Club! Learn more here: https://www.workingwardrobes.org/success-club/.
About Working Wardrobes
Working Wardrobes empowers and prepares individuals for the dignity of work. Founded in 1990 by Jerri Rosen, Working Wardrobes serves approximately 5,000 job seekers in Southern California and beyond each year. By providing no-cost assessments, training and certifications, career coaching, individualized employment plans, and wardrobe services, we have helped over 115,000 clients overcome barriers to employment and The Power of a Paycheck™. For more information, please visit www.workingwardrobes.org.