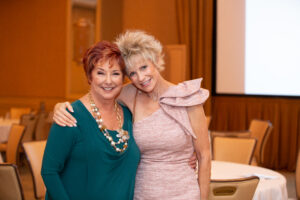 We are days away from the 2022 Working Wardrobes gala, Growing Through the Decades. This night will be dedicated to the individuals that have enthusiastically shared Working Wardrobes' mission and have partnered with us to bring The Power of a Paycheck ™and workforce development to Orange County job seekers.
From the beginning, Working Wardrobes recognized there was a need in the community for programs that aided transitioning active duty, reserve, guard, Veterans and their families. Almost one out of every three unhoused Veterans in the United States is living in California. Southern California is home to many Marine and Military bases. While military service equips people with highly transferable skills, many struggle to transition those valuable skills into the civilian workforce.
In 2012, Working Wardrobes began the VetNet outreach program, designed with specific workshops and services built to address the needs of transitioning active duty, reserve, guard, Veterans and their families. The VetNet outreach program thrives because of the dedicated philanthropy of Kristi Willette, who makes sure that the bravest among us are supported on their journey to the civilian workforce.
Kristi Willette and the VetNet Outreach Program
Kristi Willette is president of the Willette Charitable Foundation, where she has dedicated herself to carrying on the philanthropic goals of her late husband. The Foundation seeks to fund causes related to Myeloma Research and Veteran Support. When Kristi heard about Working Wardrobes' efforts to provide services through the VetNet outreach program, she was thrilled to help get servicemembers back to work while addressing their unique needs.
Her passionate and generous heart compels her to craft specialized grants around Working Wardrobes' unique needs to target services to this population each year. Over the years, the Willette Charitable Foundation has built special grants for Working Wardrobes VetNet outreach programs, including an IT certification course for transitioning active duty, reserve, guard, Veterans and their families. Kristi is heavily involved in the Working Wardrobes' Power Up for Success events — several days per year dedicated to helping about 100 Marines and Sailors navigate their transition out of military service and into the civilian workforce.
The Working Wardrobes team can always rely on Kristi's giving spirit and enthusiasm for life at VetNet outreach events. She brings her athletic vigor and wicked sense of humor to everyone around her, encouraging clients as they make a better path for themselves. She is a wonderful friend to many who are lucky to know her.
Support the 2022 Working Wardrobes Gala Today!
This year's event takes place on Saturday, September 24 in the garden of the Bowers Museum and includes a cocktail hour, a delightful dinner, and a silent auction. We invite you to participate in Growing Through the Decades by donating to our mission or participating in our live auction. You do not need to attend in person in order to bid and win!
About Working Wardrobes
Working Wardrobes empowers and prepares individuals for the dignity of work. Founded in 1990 by Jerri Rosen, Working Wardrobes serves approximately 5,000 job seekers in Southern California and beyond each year. By providing no-cost assessments, training and certifications, career coaching, individualized employment plans, and wardrobe services, we have helped over 115,000 clients overcome barriers to employment and The Power of a Paycheck™. For more information, please visit www.workingwardrobes.org.