Editorial from Working Wardrobes CEO Bonni Pomush
In 2020, over 6,300 Veterans in Orange County had an income level below poverty.¹ With Southern California's high cost of living, transitioning active duty, reserve, guard, Veterans and their families need access to reliable, consistent, and high-wage work. Approximately 15,000 individuals transition out of the military in San Diego alone each year.² Yet, many of these heroes, with a wide-array of transferable skills, face discrimination and critical barriers that make it difficult for them to find and keep meaningful employment.
As the CEO of Working Wardrobes, a nonprofit that aims to help job seekers gain the tools to get back to work, I am intimately aware of the unique issues that our country's bravest face. Both my wife and father bravely served in the US military, and I've witnessed, first-hand, the emotional, mental, and physical sacrifices they've made for our great country. Every day, they inspire me and my work to initiate employment services specifically designed to address the needs of our nation's military and their families. 
Sometimes, the barriers to employment for transitioning active duty, reserve, guard, Veterans and their families are not obvious. Often, soldiers cannot begin to critically evaluate their personal portfolio and build a network of employment opportunities because they face more immediate challenges. Financial distress, lack of reliable transportation, and food insecurity are all barriers to employment and critical needs to address. Some face homelessness – in 2020, there were over 11,400 unhoused Veterans in the state of California (that is 31% of the total homeless Veteran population in the entire United States³). As housing prices rise, housed Veterans not making a livable wage face the threat of eviction. 
Veterans and transitioning active duty members need both their physical and mental health needs met to sustain work. Veterans face emotional trauma and significantly elevated levels of depression, anxiety, and post-traumatic stress when compared to their civilian counterparts.⁴
While there are many services in Orange County designed to assist Veterans, many cannot access those services simply because they do not have the critical documents they need. Our team at Working Wardrobes believes in meeting people where they are, and sometimes that means helping them track down their birth certificate, government-issued identification, or their military service record (DD214).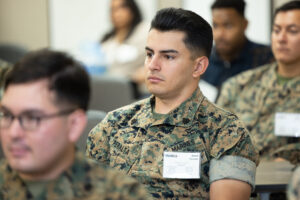 Veterans and transitioning active duty service members have ledgers of transferable skills that can be profitable powerhouses to employers. Yet, these individuals who fought for our freedoms face discrimination, often because employers misunderstand the information they are reading on a resume, or they do not understand how these skills transfer to their workforce needs. Veterans may feel discouraged and question their qualifications. At Working Wardrobes, when we encounter a frustrated client who served in the military, we often find that the first step comes in reassuring them that their experiences are valuable in the civilian workplace. A boost in confidence, accompanied by personalized resume-building assistance and career navigation, makes a world of difference.
Our nation's military protects our freedoms. It is our priority to empower theirs. The Power of a Paycheck™ means that through preparation to gain meaningful employment, our heroes have the power to make decisions for themselves and their families. With our help to embrace and put their individual skills, talents, and passions to use in the civilian workforce, our Veterans and transitioning active duty service members can continue improving our world. 
On Thursday, June 23rd, Working Wardrobes will participate in a day of giving called "Stand and Salute". Please mark your calendar for this opportunity to contribute dollars toward helping meet Veterans' and transitioning active duty service members' critical needs, right here in Orange County.  
Learn more about how you can help transitioning active duty, reserve, guard, Veterans and their families get back to work in Southern California here: https://www.workingwardrobes.org/services/veterans/
About Working Wardrobes
Working Wardrobes is Orange County's foremost workforce readiness nonprofit, providing the tools to job seekers so they can achieve the dignity of work. Founded in 1990 by Jerri Rosen, Working Wardrobes has been serving Southern California for over 30 years by providing assessments, job training, career placement, and wardrobe services to more than 115,000 clients to overcome barriers to employment and achieve The Power of a Paycheck™. For more information, please visit www.workingwardrobes.org.