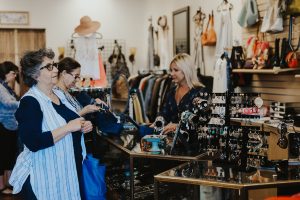 When you shop at the Working Wardrobes Hanger Outlets or Hanger Boutiques, you're supporting a full array of wrap-around services that help jobseekers who need a hand navigating the Orange County job market. When you buy an outfit, you are empowering Working Wardrobes to serve unemployed and underemployed youth, women, families, older adults, reentry citizens, Veterans, and others that need help preparing to reenter the workforce.
Each store offers a personal shopping experience with a store manager who has impeccable style. Clothing available comes from both individual donors and retailers with an overstock of brand-new clothing, so shoppers can find high-quality resale items of all types, from designer clothing to discounted new clothing with tags. The Hanger Outlet and The Hanger Boutique stores are each managed by passionate and community-minded women. The women who manage the retail stores love their jobs because they get to interact with community members, while bringing awareness to the great work Working Wardrobes does.
The Hanger Outlet and The Hanger Boutique Purchases Support Working Wardrobes' Programs
Your contribution provides more than just new clothing for you — it funds services like resume building, workshops, career training, job fairs, and assistance meeting critical needs assistance, so you can treat yourself AND give back to the community at the same time. In addition to retail shopping, you can make your impact go further by joining long-term giving programs like the Success Club, where your monthly donations of $5 – $100 improve the lives of unemployed and underemployed individuals in Southern California.
Purchases made in The Hanger Outlets and The Hanger Boutiques are directly connected to the work Working Wardrobes does. The organization began with the idea of creating an experience to restore self-esteem and confidence, and 32 years later provides job seekers with professional clothing in addition to wrap-around career readiness services. With your purchases and donations, the Working Wardrobes' team is able to meet job seekers wherever they are on the road to the dignity of work, and The Power of a PaycheckTM. Services provided to job seekers include Resume Assistance, Skills & Personality Assessments, Virtual and In-Person Workshops, Interview Practice, Certifications in IT and Customer Service, Job Coaching, and more.
New Shopping Opportunities at the Working Wardrobes Career Success Center and Donation Center
When visiting the Working Wardrobes Career Success Center in Santa Ana where clients receive career development services, the public can now shop for new professional and business casual looks in the Wardrobing Center! Those touring the Working Wardrobes headquarters can also accomplish their retail therapy before/after the tour. 
Clothing donors that visit the Donation Center can now get an exclusive shopping experience, snagging items before they hit the retail stores! 
High-Quality Clothing and Shopping Sales for a Cause
Even if you were recently at The Hanger Boutique or The Hanger Outlet, each store has a constantly changing array of high-quality items that include new with tags clothing. Those wanting to complete their holiday shopping list can visit any of The Hanger locations for two incredible weeks of sales. The Hanger Outlets in Costa Mesa and Garden Grove will have a 50% off sale from the 19th to the 23rd of December, excluding luxury items. All stores will offer 50% off from the 27th to the 31st of December, excluding luxury items.
Come on out, shop for a cause, and know that your purchases support more jobseekers rebuilding their careers with the help of Working Wardrobes. You can make a difference – donate, shop, or volunteer today. 
About Working Wardrobes
Working Wardrobes empowers and prepares individuals for the dignity of work. Founded in 1990 by Jerri Rosen, Working Wardrobes serves approximately 5,000 job seekers in Southern California and beyond each year. By providing no-cost assessments, training and certifications, career coaching, individualized employment plans, and wardrobe services, we have helped over 115,000 clients overcome barriers to employment and The Power of a Paycheck™. For more information, please visit www.workingwardrobes.org.