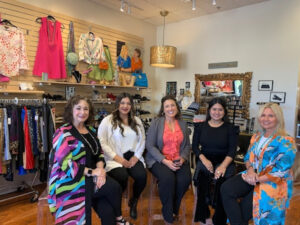 Last week, we sat down with all four Working Wardrobes' retail managers for our Rebuilding Careers podcast to get the inside scoop on a visit to The Hanger Outlets or The Hanger Boutiques. These women offered camaraderie, insights into what you can expect when you walk into one of Working Wardrobes' retail stores, and lessons on how you can change lives when you shop. Here are just a few of the questions we asked.
What is the Difference Between The Hanger Outlets and The Hanger Boutiques?
The Hanger Boutiques in Laguna Niguel and Tustin are slightly smaller stores with a focus on creating a customized experience of curated luxury goods for a discounted price. The Hanger Outlets, located in Costa Mesa and Garden Grove, are bigger stores with a wider variety of styles and even deeper discounts. "We carry a wider variety of items — from streetwear to business casual, to vintage and casual," says Paola Escobedo, manager of The Hanger Outlet in Costa Mesa. "You'll still find your luxury items with us, just at a lower price."
The clothes offered in Working Wardrobes' retail stores fit a wide range of shoppers. "Personally, what I love about working at The Hanger Outlet is that you get customers of all ages," says Mayra Esparza, manager of the Garden Grove outlet. "I love seeing a group of teenagers come to the store and go straight to the vintage section, or look for streetwear. I equally love that I see people that come in going straight for luxury, or business casual, or for their vacation. We carry all types of clothing."
How Do Customers Find Out about the Cause that Their Purchases Support?
Often, customers come for the discounts the retail stores offer without knowing about the larger mission that the stores power. "Every person that walks through the door, we blast them with the mission of Working Wardrobes, " says Nancy Luxon, manager of the Laguna Niguel boutique. "We want them to feel good about coming to our store and to know that they are supporting an incredible cause by shopping." 
Our store managers are dedicated to the mission of helping job seekers get back to work. They are eager to talk about the Working Wardrobes' mission and bring awareness to the underlying issues that job seekers must overcome. Community members can get involved in the Working Wardrobes' mission by donating clothing, time, or money, or by continuing to shop at any of the retail locations.
What Can Customers Expect When Going to the Working Wardrobes Retail Stores?
Each store offers a personal shopping experience with a store manager who has impeccable style. The women who manage our retail stores love their jobs because of the connections they make with customers and the support they provide to the mission. Relationships with their customers go as far as each manager curating pieces for individual customers and letting them know when items that suit their personal style (in their size) arrive. "It's like going to your hairdresser," says Lisa Jacobs, manager of the boutique in Tustin. "I think it's important to love yourself first before pouring into customers. We are teachers, sisters, mothers, wives, friends, and therapists to everybody that walks through those doors. We are honest, kind and full-spirited with them."
Join Us at The Hanger Outlets or The Hanger Boutiques! Learn more by visiting our boutiques and outlets page.
About Working Wardrobes
Working Wardrobes is Orange County's foremost workforce readiness nonprofit, providing the tools to at-risk men, women, young adults, and Veterans so they can achieve the dignity of work. Founded in 1990 by Jerri Rosen, Working Wardrobes has been serving Southern California for over 30 years by providing assessments, job training, career placement, and wardrobe services to almost 115,000 clients to overcome barriers to employment and achieve The Power of a Paycheck™. For more information, please visit www.workingwardrobes.org.