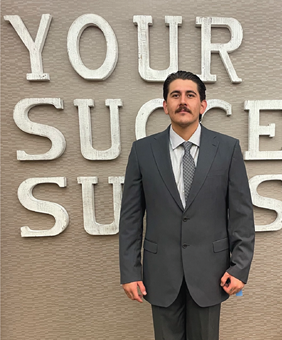 When you shop in a Working Wardrobes retail store, The Hanger, you provide more than just funds or clothing, you provide the chance for a person to pursue their dreams and change their life. Purchases made in our retail stores support our Rebuilding Careers Programs.
Every day, the Working Wardrobes team offers a hand-up to those seeking job readiness resources. Nothing makes us feel better than hearing a client tell us "I got the job!"
Recently, Izzaiah came to us for help. He needed our wardrobing services for a life-changing interview. Our team was able to help him get interview-ready. Later, after he landed the job, he told us the story of how Working Wardrobes was able to change his life for the better.
Izziah's Story, in His Own Words
"I'd like to thank everyone at Working Wardrobes for the patience and hard work they dedicated to my journey, making me the man I am today. I have laughed with you and grown through your wisdom and strength.
When I came to Working Wardrobes, I was afraid, alone, and lost in the world. No more am I afraid, alone or lost. I have come a long way from where I started. I arrived as a homeless, ex-drug addict with a criminal record. Over time, I had come to believe that I had nothing to offer the world besides manual labor, but I became hopeful after seeing the lives changed through Working Wardrobes.
The work that the Working Wardrobes staff puts into the youth of Southern California is life-changing. I have a sense of worth and a great job where I'm blessed to work steps away from the sands of Newport Beach. Every morning, my office is the beach and at the end of my shift, the sunset is my goodbye. I have a new car — I never saw myself owning a vehicle. I've lived at my new home for six months and am on my own for the first time in a long time. I've had stability — something Working Wardrobes offered me.
Stability was the foundation of my growth as a man.
Thank you, Working Wardrobes, for your amazing staff, wonderful words of encouragement, and the time and money you invested in me for housing, food, and a safe place to go when I am alone and lost. I am whole, free of my past life and have begun anew."
Shop at The Hanger Retail Stores
Izziah's story was made possible because of the programs Working Wardrobes is able to fund in party by purchases made at The Hanger Outlets and The Hanger Boutiques. Take part in transforming lives when you shop! We have locations in Costa Mesa, Laguna Niguel, Tustin, and Garden Grove. Visit us and Shop for a Cause.
About Working Wardrobes
Working Wardrobes is Orange County's foremost workforce readiness nonprofit, providing the tools to at-risk men, women, young adults, and Veterans so they can achieve the dignity of work. Founded in 1990 by Jerri Rosen, Working Wardrobes has been serving Southern California for over 30 years by providing assessments, job training, career placement, and wardrobe services to almost 115,000 clients to overcome barriers to employment and achieve The Power of a Paycheck™. For more information, please visit www.workingwardrobes.org.