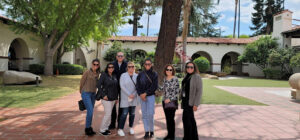 Prepare yourself for a dazzling walk in the garden underneath the night sky. On September 24th, Working Wardrobes will host Growing Through the Decades, a night to reflect on our 31-year history of helping Southern California's men and women from every walk of life re-enter the workforce. This night will celebrate the accomplishments of the last three decades and offer a glimpse of Working Wardrobes' flourishing future and CEO Bonni Pomush's progressive vision for the organization and those it serves. 
"In the time that I've been CEO, I've been blown away by the perseverance and resilience of our clients, and the passion of the Working Wardrobes family," says Pomush. "These past weeks, months, and years have come with unique barriers for job seekers, but because of efforts planted years and decades ago, we're able to provide individuals with the tools they need to return to the workforce. I'm ecstatic to share these victories with our donors at the Growing Through the Decades Gala, and to continue planting seeds of success for all we have the honor to serve."
This year's theme focuses on the power of planting a seed. Donors, volunteers, and partners consistently and generously throughout the year plant 'seeds', and those seeds of dedication flourish into the many programs that Working Wardrobes spearheads, giving job seekers access to career opportunities, wardrobing, resume building, critical needs assistance, networking opportunities, and infinitely more.
Read more: Q3 Rebuilding Careers Events You Don't Want to Miss
Throughout the decades, the staff and volunteers at Working Wardrobes have planted the seeds that bloomed into incredible programs and life-changing transformations. We are committed to helping these programs and the people needing them flourish through countless decades ahead.  
The event's venue will encapsulate this year's theme by taking place in the garden of the Bowers Museum. We'll highlight the year so far, celebrating the people and their experiences that exemplify the importance of what Working Wardrobes achieves every day.
We invite you to participate in Growing Through the Decades by purchasing a seat, a table, or by sponsoring the event, and continue to support job seekers across Orange County and all of Southern California.
Join us for a cocktail hour, delightful dinner, auction, dancing and more! Cocktail attire is encouraged, and complimentary parking is available. Your reservation or sponsorship helps us empower clients with The Power of a Paycheck™!
To get involved as a sponsor or donate visit here or email us at DevelopmentTeam@workingwardobes.org.
About Working Wardrobes
Working Wardrobes is Orange County's foremost workforce readiness nonprofit, providing the tools to at-risk individuals and Veterans so they can achieve the dignity of work. Founded in 1990 by Jerri Rosen, Working Wardrobes has been serving Southern California for over 31 years by providing assessments, job training, career placement, and wardrobe services to almost 115,000 clients to overcome barriers to employment and achieve The Power of a Paycheck™. For more information, please visit www.workingwardrobes.org.