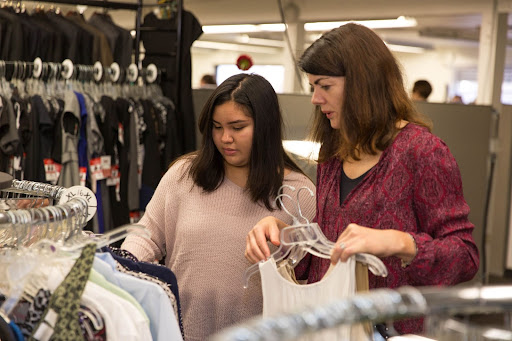 Southern California is one of the most beautiful places to live in America, but for many, the high cost of living makes Southern California a place of heartache. Finding meaningful employment with sufficient wages can help job seekers build the best lives for their families and themselves.  Job seekers need resources and critical support in order to get back to work. For the past thirty-one years, Working Wardrobes has been helping people return to the workforce, and we are here to support Orange County residents on their journey to meaningful employment.
Working Wardrobes' Rebuilding Careers Program offers a comprehensive range of career development services. The program helps clients find and maintain employment in high-demand, higher-wage occupations, avoid poverty and homelessness, and achieve self-sufficiency and success.
Hundreds of thousands are currently unemployed in Southern California. Working Wardrobes is here to help. At no cost, our career coaches will help get individuals job-ready.
Preparing Service Members for the Civilian Workforce Through VetNet™
Working Wardrobes believes in being the unspoken heroes to those who are heroes for us. Our VetNet™program provides special services for Veterans and service members preparing to re-enter civilian life. Working Wardrobes provides service members with Career Navigators — personal career coaches that guide them on their journey to employment. They get to know service members through personality, skill, and career assessments, and help them create individualized employment and support plan that includes resume building, networking, career workshopping and access to community resources. Our award-winning Power UP experience,  specifically designed for military personnel aiming to re-enter the workforce, prepares them to face the challenges ahead.
Building New Skills For Job Seekers Through Career Workshops
We know that, no matter the stage of your career, it's crucial to continue to grow. Working Wardrobes has connections with leading experts in many industries and can provide job seekers with crucial insights and connections. Those that wish to enter the world of IT or customer service can take advantage of Working Wardrobes' certification classes. Our Career Readiness Program offers top tips from leading employers in Orange County. Job placement services can help individuals tailor their resume to match the industry they wish to enter.
Helping Job Seekers Get Interview-Ready Through Wardrobing Services
When a candidate finally lands an interview for their dream job, Working Wardrobes is the one-stop resource for wardrobing needs. A personal stylist helps the job seeker find the success suit to wear for their interview and working days ahead. Job seekers deserve to look and feel their best from the inside out – and that boost in confidence helps many land the job.
Working Wardrobes Helps Veterans and the Unemployed Return to the Workforce
Become part of the solution! Join the Working Wardrobes Success Club to provide continuous support for our programs and services for those in need. Together, we make a difference!
About Working Wardrobes
Working Wardrobes is Orange County's foremost workforce readiness nonprofit, providing the tools to at-risk men, women, young adults, and veterans so they can achieve the dignity of work. Founded in 1990 by Jerri Rosen, Working Wardrobes has been serving Southern California for over 30 years by providing assessments, job training, career placement, and wardrobe services to more than 115,000 clients to overcome barriers to employment and achieve The Power of a Paycheck™. For more information, please visit www.workingwardrobes.org.