In 1990, Jerri Rosen hosted a Day of Self-Esteem for survivors of domestic violence. Thirty-two years later, over 120,000 jobseekers have received vital support on their career readiness journeys. For each jobseeker served, an immeasurable number of spouses, children, friends, and neighbors are affected. What started as one act of kindness – a single hand up – has blossomed into an impact that transcends what we can imagine. That's The Power of the Ripple Effect.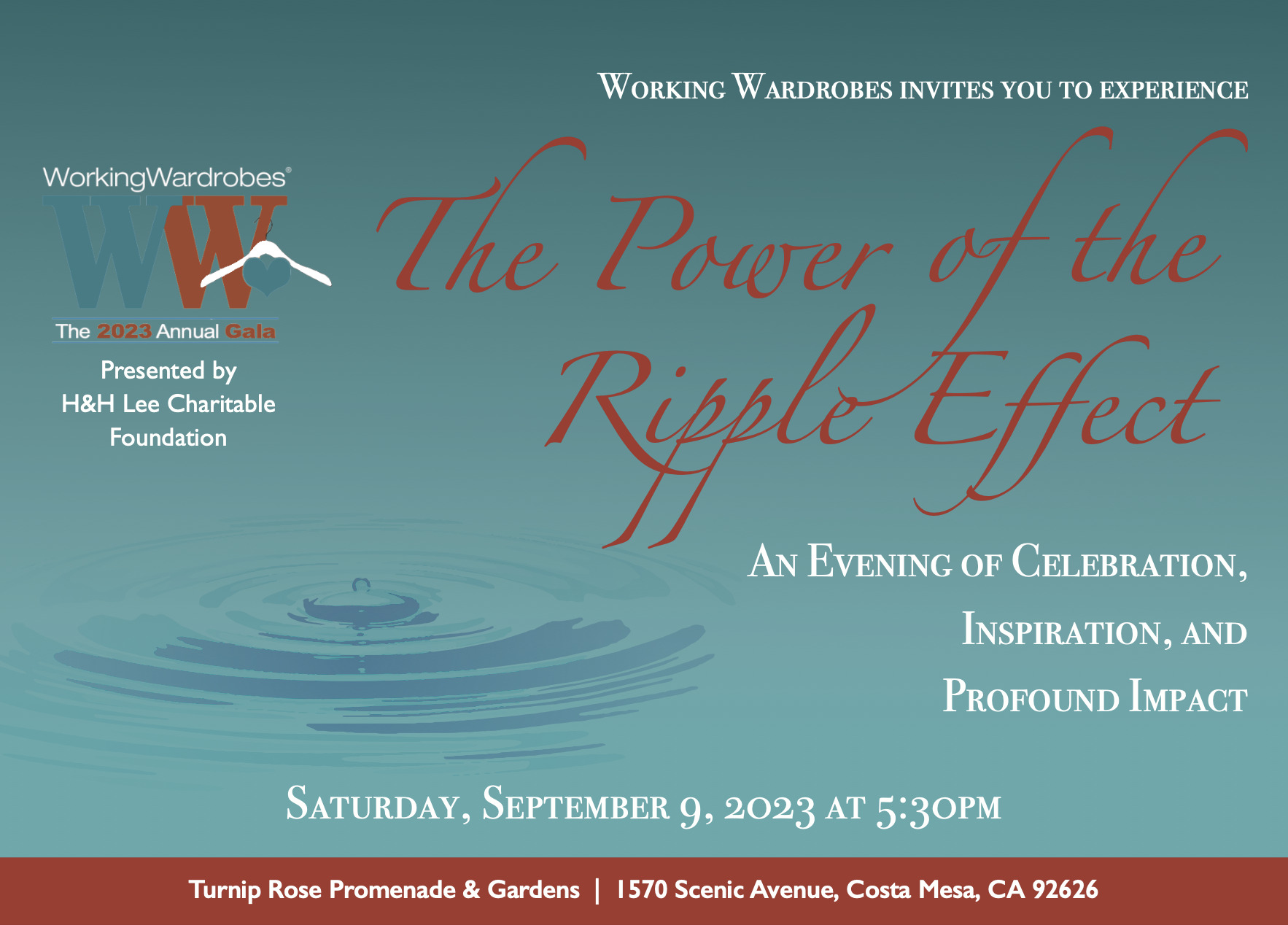 You're Invited!
We are thrilled to share that you can purchase tickets and tables for Working Wardrobes' 2023 Annual Gala, presented by the H &H Lee Charitable Foundation, today! The event, scheduled for the evening of Saturday, September 9th, at The Turnip Rose Promenade, will be an inspiring tribute to the Working Wardrobes mission. Please join us for this celebration of the ripple effect supporters like YOU create in our community.
"H & H Lee Charitable Foundation embraces the opportunity to help Working Wardrobes! The mission fits with our goals of helping people find their opportunities to excel. Many individuals need support in reestablishing their livelihoods and Working Wardrobes is the perfect avenue for them. As presenting sponsor for the Gala, H & H Lee Charitable Foundation is honored to provide funds to enable Working Wardrobes to assist clients."

– Ken Lorin, Director of the H & H Lee Foundation.
Honoring Legacies of Impact
On the evening of September 9th, we will honor Justin Frame (Managing Director – Market Head | Southern California at UBS) and Boeing for their years of generosity and partnership with Working Wardrobes. In the coming weeks, we will share exclusive insights into Mr. Frame's and Boeing's history with our organization and the many ripples created by their support. Never miss a blog post from Working Wardrobes – subscribe today!