Jerri Rosen, Center, with Camp Pendleton Marines
Mission Accomplished! Camp Pendleton "Powers Up" for Success.
Recently, we had the distinct honor of preparing nearly 100 U.S. Marines for transition to the civilian workforce as we traveled to Camp Pendleton for a day of professional services and wardrobe styling with the 1st Marine Regiment at the Regimental Instructional Facility (RIF).
The support of countless volunteers, many corporations, and the Working Wardrobes Board of Directors and staff made it all possible. We'd like to extend our very special thanks to the 1st Marine Regiment Command Leadership for their partnership.
Working Wardrobes' Chief Program Officer, Mary Ann Profeta, led the Marines in a True Colors Workshop, followed by rotations through wardrobe selection and professional pictures, as well as a Career Panel, Job Fair, and informative Transition Workshop. A fashion show served as the event's exciting finale and showcased some fantastic looks developed by our amazing volunteer stylists.
The day's mission was to help Marines discover the power of networking and transition techniques, meet companies, learn about employers who want their skills, and find their perfect Success Suit as they prepare to transition out of the military and into the civilian workforce.
Mission accomplished!
A series of career development sessions were offered to Marines throughout the day, which included:
A Career Success Panel featuring Jason Politte, Moderator
A Resilience Building Leader Program featuring Tim Chaplin from Ingram Micro and Robert Sanchez from Allied Universal
A Transition and Networking Workshop conducted by Terance Jones, Working Wardrobes Career Coach and Navy Veteran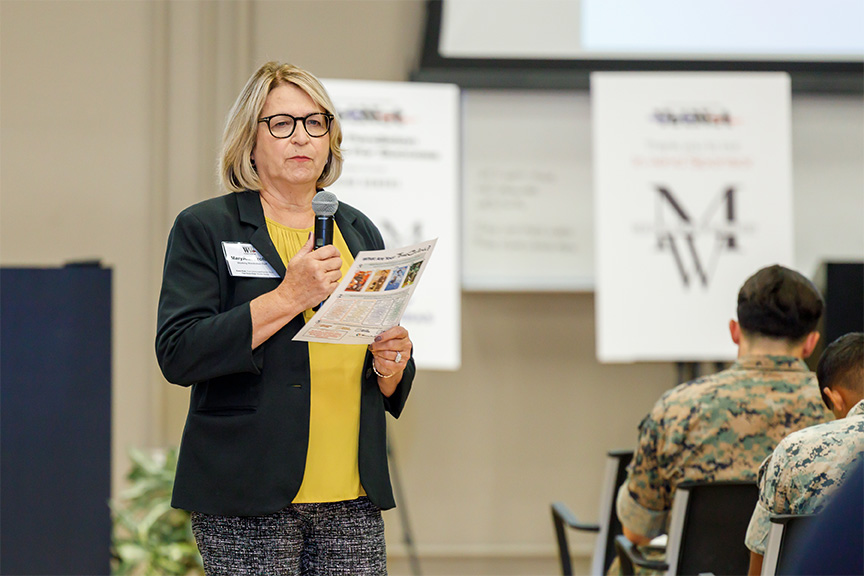 Mary Ann Profeta leading the True Colors Workshop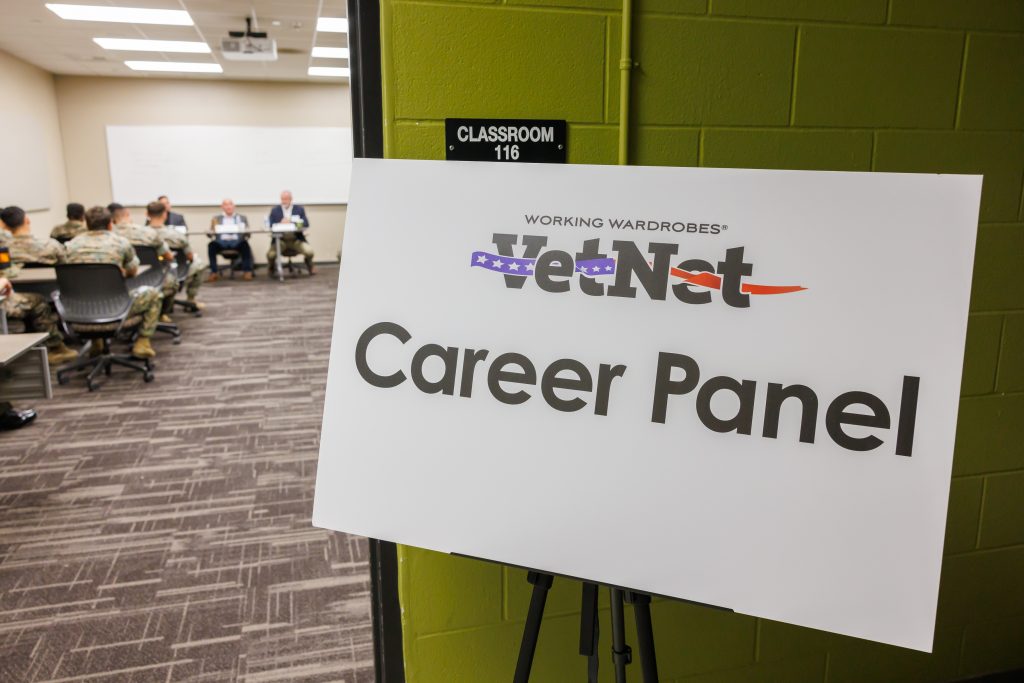 An onsite job fair featured the following companies:
Allied Universal, Aire Rite, American Aerospace Technical Academy, Alliance Environmental Group, Brosnan Smart Security, Enterprise Fleet Management, FedEx Ground, Ingram Micro, Northrup Grumman, Servpro and Spectrum.
Our sincerest thanks go to our corporate partners Orange County Soccer Club, UBS, Pacific Premier Bank, Pacific Western Bank, Morgan Stanley and First Bank; and to our in-kind donors FedEx, Men's Wearhouse, SALT Optics and Bombas. Men's Wearhouse provided wardrobe essentials, SALT Optics provided eyewear, and our deserving Marines received t-shirts from Cuts.
Additional in-kind contributions included lunch from California Love Drop with Wahoo's Fish Tacos, Yogurtland, Heidi& Frank from 95.5 KLOS, and Monster Energy.
Be sure to check out the photo gallery below!
This event served as the last under the helm of Jerri Rosen, Founder and CEO of Working Wardrobes, and was very similar to the event that served as the launchpad for Working Wardrobes 31 years ago.
"After all these years, it's still a magical moment to come together and help men, women, young adults, and Veterans prepare for the workforce," said Jerri. "This was the best event, ever, and I am so proud that it serves as my foray into retirement. I wish each and every one of these incredible Veterans success in their futures – on the job and in life."
Are you, or someone you know, out of work?  Do you need help?  Please call (714) 735-4409 to speak with a career coach today!