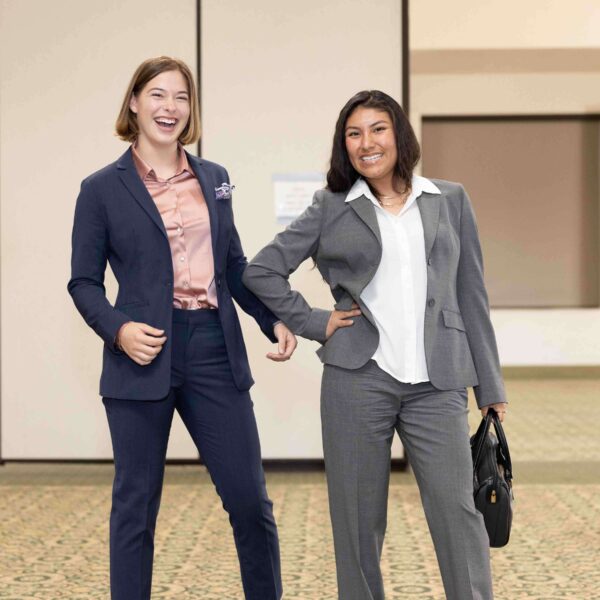 As we look ahead to 2023, growth and development across all parts of Working Wardrobes, from the clients we serve to the board of directors to the staff and volunteers, all are poised to bring diversity, automation, industry expertise, and increased opportunities for support in 2023 and beyond. In spite of wide-ranging barriers to employment, 2023 will be a foundational year for the thousands of individuals pursuing Working Wardrobes' initiatives that bring supporting rebuilding careers through workforce development services to job seekers across Southern California.
Engaged Leadership to Meet Ambitious Goals
For the board and leadership of Working Wardrobes, the themes for 2023 will center around growth through collaboration, automation, and the continued execution of strategic plans. We will continue to pursue opportunities for us to collaborate – both internally and as a partner organization. Another strategic initiative to grow the membership of our board will bring in new members who have unique areas of expertise and complement those currently serving. Teaching and learning together will further enhance our leaders' abilities to serve and fulfill our governance initiatives. 
Strengthened Initiatives for Rebuilding Careers
There are four pillars to our growth plan: leadership, people, growth, and sustainability. We are continuing to thrive in all of those areas. In order to serve more clients, we will focus on our initiatives to raise additional funds.
We will continue to build on the successes that we created in 2022, including initiatives like the Rebuilding Careers Coalition — our invitation for donors who believe in empowerment, second chances, and becoming a better version of oneself. We will continue to grow that giving collective in 2023.
Working Wardrobes has a now 32-year history of changing the world one person at a time. We will keep building on that history by serving more clients this year. In order to serve more clients, we will continue to grow the partnerships we have with corporations, foundations, and individual donors of all levels, including in-kind supporters, retail partners, and our client services partners.
We will continue to build out and expand programming for the military, like our Power Up for Success events held on military bases. We will expand upon the services we provide with our other partner agencies like the Department of Education and other nonprofits serving youth. 
New contracts grant us access to do more of what we already do well through targeted outreach. In 2023, we will expand our targeted services to seniors and individuals involved in the justice system.
Technology also continues to help us streamline our efforts and provide more access and service touchpoints to our stakeholders. Working Wardrobes continues to work on smart technological systems, like our Training and CRM (Customer Relationship Management) platforms, that make us more effective while giving us the opportunity to serve clients, customers, and partners more efficiently.
Workforce Development with Anticipated Successes and Results
Every day we are learning new things about the future of work. We know that customer service is an in-high-demand soft skill for job candidates, so we will expand the national certification in customer service courses we provide to clients, especially as we continue to hear from employers that these skills are valuable.
We are prepared to serve more clients who have been involved in the justice system. We will invest in equipping these clients with the tools they need to achieve their specific goals by overcoming barriers to employment. They will benefit from interview training that prepares them to talk about the gap in their resume during interviews, provide digital literacy training, and upskilling in programs like Word, Excel, and new technology in general. Each individual will create an Individualized Employment Plan that we will guide them to achieve, thereby overcoming the obstacles between their current circumstances and the dignity of work.
Overall, we are looking forward to seeing our team embrace the empowerment that they strive to give to our clients every day. In 2023; we are excited to invite, use and share the gift of empowerment to create a stronger future for every individual involved in this powerful mission to help people overcome barriers on their journeys to employment. 
Donate today and support our 2023 initiatives to rebuild careers for 5,000 job seekers. 
About Working Wardrobes
Working Wardrobes empowers and prepares individuals for the dignity of work. Founded in 1990 by Jerri Rosen, Working Wardrobes serves approximately 5,000 job seekers in Southern California and beyond each year. By providing no-cost assessments, training and certifications, career coaching, individualized employment plans, and wardrobe services, we have helped over 115,000 clients overcome barriers to employment and The Power of a Paycheck™. For more information, please visit www.workingwardrobes.org.