During this first week of Gratitude Month, we are absolutely thrilled to kick off November by extending our heartfelt appreciation to you. 
In 2023, Working Wardrobes aims to positively impact the lives of 5,000 clients. We're elated to report that we've already assisted over 4,500 individuals, offering more than 6,500 valuable services, and our progress indicates we're well on our way to surpassing our set target. 
What's more, the dedication of over 1,700 remarkable volunteers has been truly awe-inspiring, contributing an incredible total of almost 21,000 hours to bring our mission to life. 
We extend our deepest gratitude to YOU for your invaluable contributions, be it your time, your unique talents, or your generous support, all of which have been instrumental in helping people overcome the barriers they face on their journey towards gainful employment.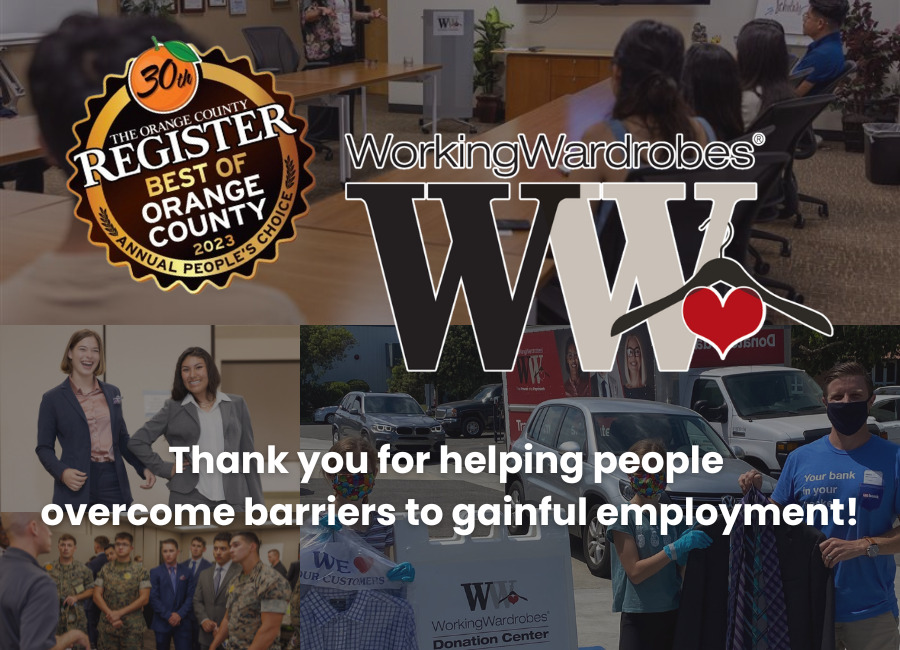 Read what some of our clients have had to say about our services: 
"I had NO idea Working Wardrobes offered all these services for individuals looking for employment. I just thought they provided clothing. I immediately enrolled with a Career Navigator to start my road to employment." – Robin, Working Wardrobes client 

"When you find yourself out of work it is often demoralizing. You lose your sense of purpose. Working Wardrobes is life-changing in providing the resources and tools needed to get back into the game with confidence and clear direction. Your work and resources matter and change your life in a profound way." – Bonnie, Working Wardrobes client 

"Thank you, Working Wardrobes! You all made me feel so beautiful and powerful. You gave me my glow back, and I am so grateful." – Aires, Power Up for Success event participant 
Changing Lives, One Person at a Time
We express our deepest appreciation for your invaluable contributions to assisting individuals in conquering the obstacles on their path to sustainable employment. With your unwavering support, we have the power to make profound changes in the lives of those in our community. 
Please, mark your calendars for Giving Tuesday, which falls on November 28, 2023. Alternatively, if you feel inclined to make a difference today, you can initiate a ripple effect that commences with career success and ripples outward to boost confidence, well-being, and a renewed sense of purpose for our clients. Your involvement is a catalyst for transformative change.