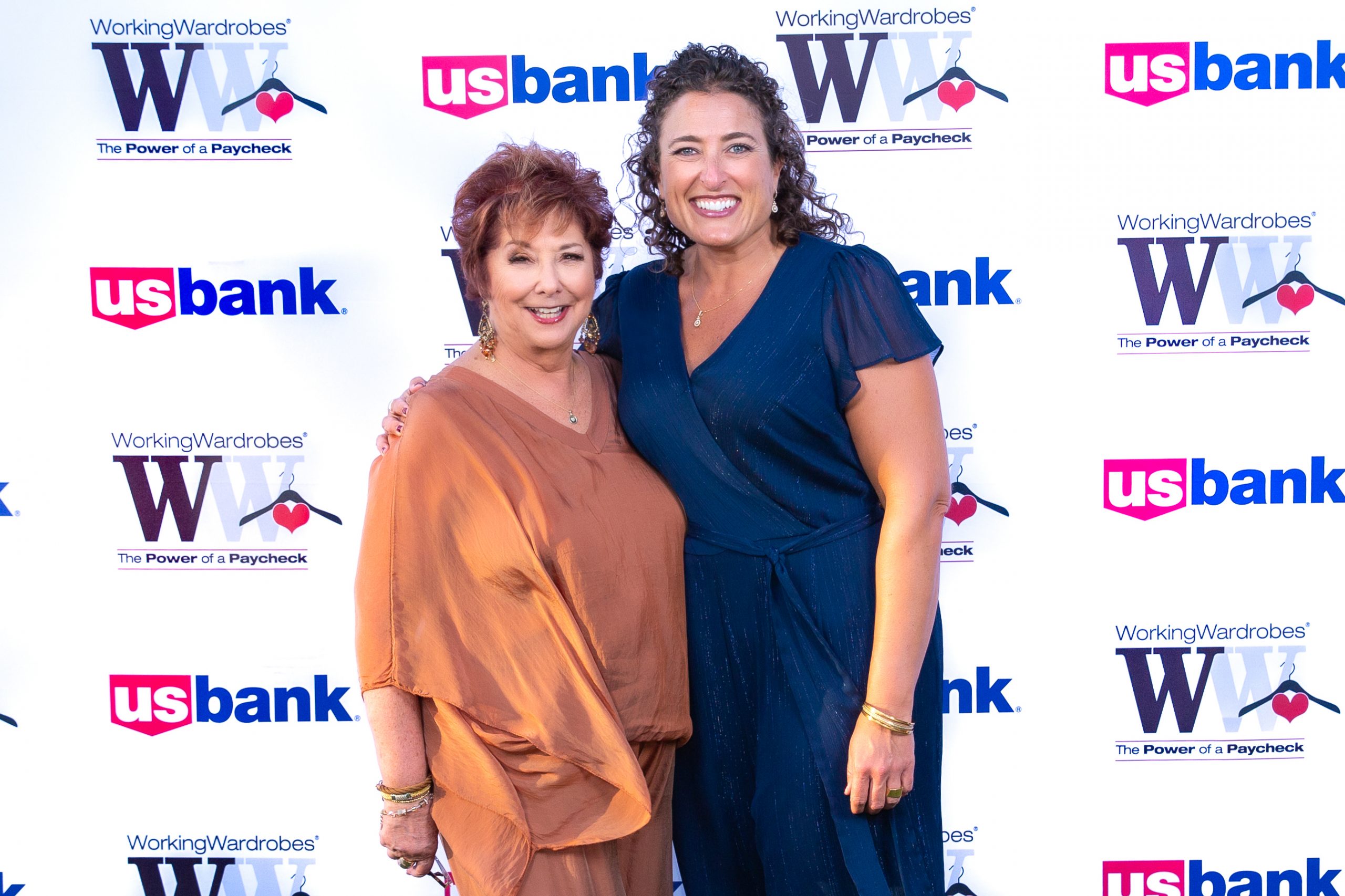 Jerri Rosen with Bonni Pomush, Incoming Working Wardrobes CEO
Celebrating Under the Stars Highlights
On Saturday, October 2, Working Wardrobes hosted its Celebrating Under the Stars gala, presented by U.S. Bank.  This event raised over $452,000 and is the most successful fundraiser in our 31-year history!
This year's event, attended by more than 300 guests, took place outdoors in the gardens of Turnip Rose in Costa Mesa and featured an evening of food, entertainment, client testimonials, dancing under the stars, fundraising through silent and live auctions, and clothing sales.
The Irvine Barclay Theater Jazz Band, headed by Jerry Mendel, donated their talents to entertain guests at the opening reception.
Our 2021 gala was the final Working Wardrobes event with Jerri Rosen leading the organization as she will be retiring at the end of the year. The evening was a special opportunity for friends and supporters to recognize and celebrate her 31 years of service and leadership.
The presenting sponsor of the gala was U.S. Bank, a long-standing partner and donor to Working Wardrobes.
Additional sponsors of the event included Moonlight Sponsor: Boot Barn; Starlight Sponsors: Pacific Premier Bank, Pacific Western Bank, UPS, Windsor, and Capital Group; Radiance Sponsors: Sally Anderson & Tom Rogers, Boeing, C3 Tech, KPMG, Leaderology, Mechanics Bank, Optum, Robert Half, Jana Turner, UBS, In-N-Out Burger; and Sparkle Sponsors: Make Dust, Newmeyer Dillion, Pence Wealth Management and Kim Shepherd.
The funds raised support Working Wardrobes programs and services, aimed at helping the unemployed and underemployed in our community get the resources they need to achieve job success!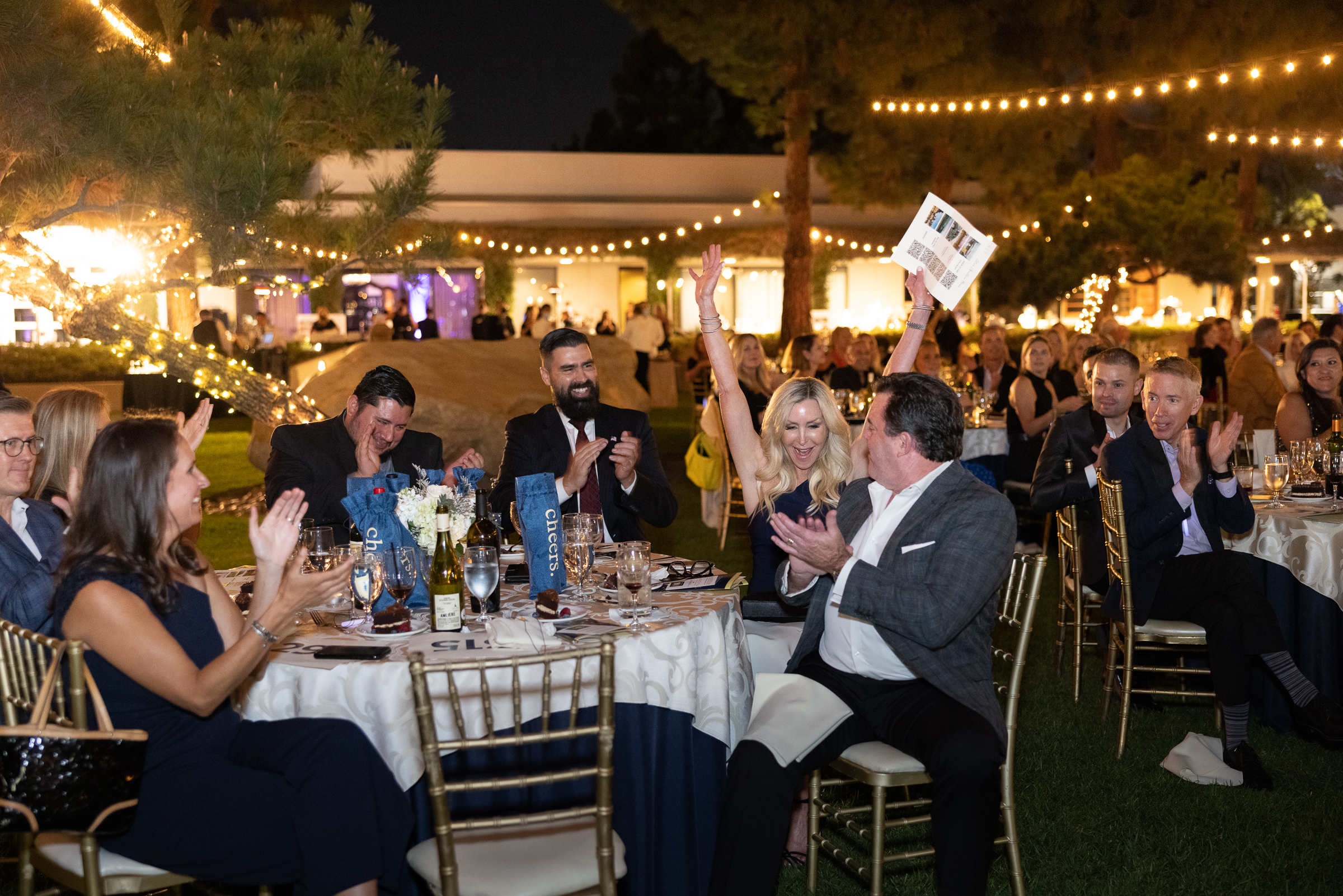 A fabulous evening of bidding, dining, celebrating, and helping others.
Check out photos from the event below!
Special highlights of the night:
– Presentation of Colors by the Weapons and Field Training Battalion, Marine Corps Base Camp Pendleton
– The National Anthem sung by Vocalist Cpl Kasie N. Wagner, 1st Marine Division Band, Marine Corps Base Camp Pendleton
– Quilts of Valor handcrafted by friends of Working Wardrobes, Joanne Morin Hilton & Michael Morin, and presented to Darel Doohan, US Army Veteran and Working Wardrobes team member
– Poignant speeches from three phenomenal past clients served.
Elected officials presented Jerri with Certificates of Recognition during the program. They included:

Assemblywoman Petrie-Norris
Recognition from Debbie Lumpkin, Chief of Staff from Supervisor Foley
Mayor of Irvine Farrah Khan
We extend our deepest thanks to Gala Committee Chair, Christine Ragos; our wonderful sponsors; and Underwriter, Cyndi Karapogosian, for our signature drinks!
Oh what a night!
Are you, or someone you know, out of work?  Do you need help?  Please call (714) 735-4409 to speak with a career coach today!