It's hard to believe that we're nearly halfway through the year – and what a year it's been!!
We definitely had our share of challenges, beginning with a fire that destroyed our Irvine headquarters in February.  Yes, it was tragic and we were devastated to learn we had lost everything, but out of the ashes came hope in the form of our generous donors.
The support of our community has been nothing short of miraculous!
Because of that support, we are well on our way to rebuilding Working Wardrobes into a better, stronger, and more efficient organization to serve thousands of additional clients on their journeys to jobs.  We said we would rebuild so that we can rebuild the lives of others.  And we're doing all of that.
Today, I'm writing to share the first of several Rebuild Reports that we will be providing this year, to communicate how generous donations are helping with these extraordinary efforts.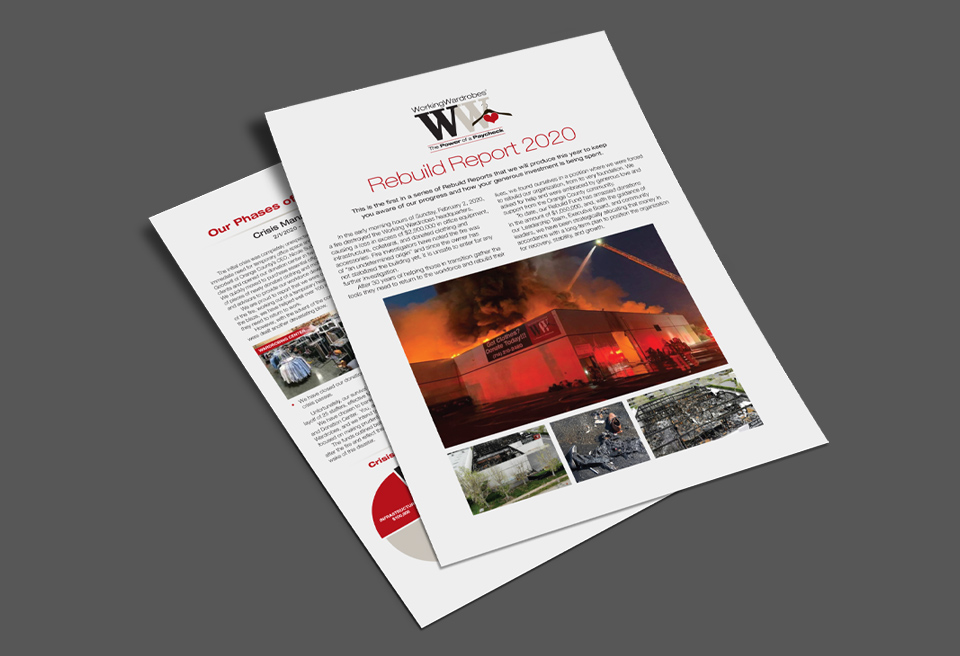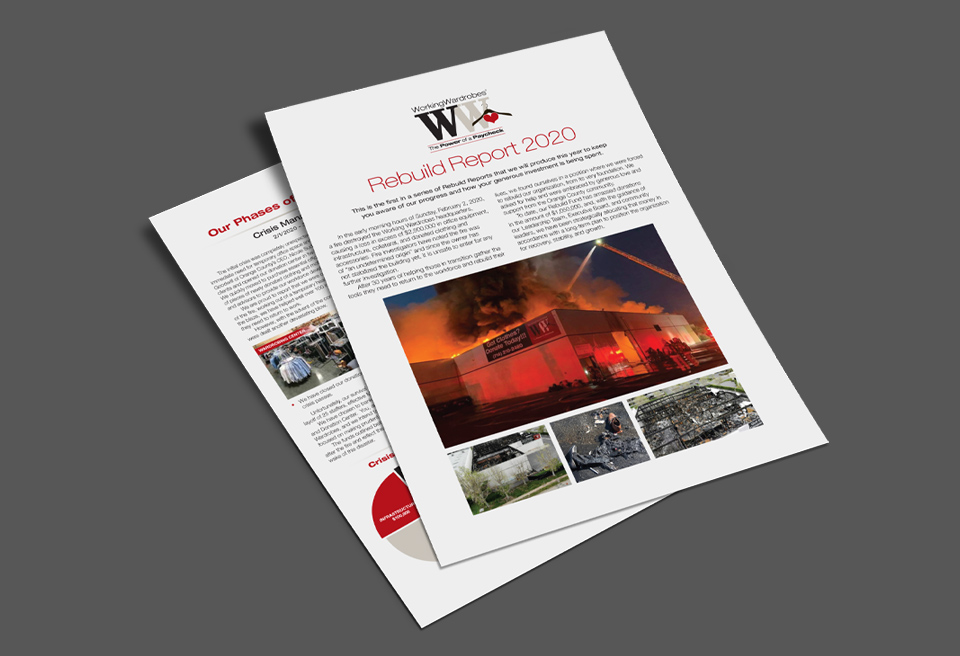 Click here to access the Rebuild Report, which outlines how financial contributions have been used thus far and how financial contributions will be used going forward to fund important client programs and services.
Following are some exciting updates we wanted to share.  We are busier than ever and remain steadfastly committed to serving men, women, young adults, and veterans on their journeys to jobs and the Power of a Paycheck!
Let's start with new news! We have signed leases for a new Career Success Center location and a separate new Donation Center location.  This is the best news I could bring to you, and additional information will be sent in the coming weeks as we get ready to open.
We launched our Virtual Volunteer Center to solicit the support of client advocates, business professionals, and career experts who are helping transform our clients' lives – virtually!  Many volunteers have signed up to help and we couldn't be more grateful.
Our Rebuilding Careers campaign is in full swing.  Hundreds of job seekers here in Orange County, throughout California, and around the country have attended these important, action-oriented online workshops.  We will be providing these workshops throughout 2020 and beyond to help even more people hone their job skills.
So far this year, our events have been held online and will continue to be for the remainder of 2020, including a series of Smart Women conversations with the wonderful Kelly Lam.  Coming up in August is my very BIG birthday with the best Tupperware salesperson in the world, Dixie Longate (more later!) and then on September 12th, we will host Walk in Their Shoes to support veterans.  You won't want to miss any of these fun events.
It's difficult to put into words how truly grateful I feel for your ongoing support. Working Wardrobes is part of an amazing, loving, and supportive community.  Thank you, so much, for making a difference in the lives of our clients.  I am forever grateful.
Jerri