We believe that a paycheck is more than just money —it is empowerment. The Power of a Paycheck ™ gives individuals the opportunity to express themselves, become who they want to be, and make new choices. For many of us, nothing represents the growth and dignity that comes with earning a paycheck as much as the memory of earning our very first paycheck.
We asked members of the Working Wardrobes staff to tell us their first paycheck stories, and how those experiences shaped who they are today.
Michele Ormiston; Administrative Manager of Working Wardrobes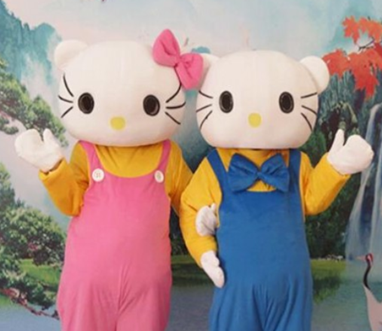 When I was sixteen years old, I wanted to get a job, but I found it difficult because I did not have experience. As a teeenager, naturally I sought the mall for openings. At the Thousand Oaks mall, a Hello Kitty would soon open.  I applied for the job, but the owners would not hire me as a cashier because I did not have experience. However, they offered me a position dressing up in the life size Hello Kitty costume and handing out balloons to kids as they walked by. It wasn't precisely what I wanted, but it was a start. I accepted the position.
My morning consisted of arriving early to blow up all the helium balloons I would need for the day. The costume with the large stuffed head was heavy and warm, and I wore it for hours. It was an uncomfortable job, but I performed my tasks with consistency and excellence, and it was fun to know that I was bringing a smile to children's faces. The managers witnessed how hard I worked and, at the end of a couple of weekends dressing up, they offered me a job as a cashier. Earning my first paycheck showed me that persistence leads to success, even if I couldn't have predicted the outcome from the beginning.
What is Your First Paycheck Story?
How did your first paycheck shape your life? We'd love to hear from you. Read more first paycheck stories, and tell us yours.
About Working Wardrobes
Working Wardrobes is Orange County's foremost workforce readiness nonprofit, providing the tools to at-risk men, women, young adults, and Veterans so they can achieve the dignity of work. Founded in 1990 by Jerri Rosen, Working Wardrobes has been serving Southern California for over 30 years by providing assessments, job training, career placement, and wardrobe services to almost 115,000 clients to overcome barriers to employment and achieve the Power of a Paycheck™. For more information, please visit www.workingwardrobes.org.