Last month, the Working Wardrobes staff spent some time with new CEO Bonni Pomush. Working Wardrobes employs a wide range of tools to help clients learn skills, build confidence, and navigate returning to the workplace. Bonni was able to learn about all of Working Wardrobes programs and was able to see how each and every team member contributes to the mission.
Bonni Tours the Career Success Center
Bonni began her listening tour at the Working Wardrobes headquarters to visit the Career Success Center. Everyday, Working Wardrobes helps clients gain the tools they need to return to the workforce with confidence. Thanks to the tireless work of staff and volunteers, the programs generate real results that build a better future.
Bonni's first stop was in the Main Lobby, where she celebrated the clients that were able to transform their lives with Working Wardrobes' help. She paid tribute to the supporters that helped the organization rebuild after the fire of 2021.
Volunteers make every aspect of Working Wardrobes work. Bonni visited the Volunteer Center, and then met with the Career Success Center team.
In the Wardrobing Area, Bonni spoke with lead stylist and Wardrobe Specialist Adrianna Ceballos to learn how the transformation process for clients takes place. Adrianna believes that a great smile never goes out of style, and showed off the suits that will help clients dress for success.
Bonni Tours the Hanger Outlets
Working Wardrobes' retail stores power the work that is done through Working Wardrobes. Visiting and shopping provides financial resources to fuel the Working Wardrobes mission. Bonni got to meet Paola Escobedo, store manager of the Costa Mesa Hanger Outlet, where they were able to discuss the specific needs and accomplishments of the location.
Bonni met with Mayra Esparza, store manager of the Garden Grove Hanger outlet, where they made incredible fashion discoveries.
Bonni Tours the Hanger Boutiques
The Hanger Boutiques provide additional support – with all proceeds going towards making a difference in clients' lives. Bonni visited the boutique in Tustin, where she was greeted with cookies and flowers in her favorite color. Bonni and Lisa Jacobs, store manager,  discussed the unique quirks of the Tustin location.
Bonni visited the boutique in Laguna Niguel, where store manager Nancy Luxon and Assistant Manager Patricia Buhler treated Bonni to a lively tour of the location.
Bonni Tours the Donation Center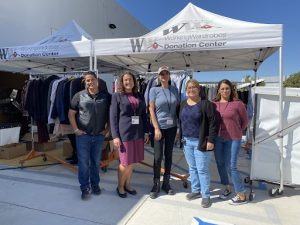 Bonni's final stop was at the Working Wardrobes Donations Center. Thanks to the generous clothing donations made by donors across Orange County and the state of California, Working Wardrobes is able to make a difference in the lives of men, women, veterans and young adults reentering the workforce. While touring the donation center, Bonni was able to speak with the team members and volunteers that make the ins and outs of the operation possible.
Bonni began her tenure as CEO of Working Wardrobes on January 1, 2022, after Founder Jerri Rosen retired. She is only the organization's second leader in its 31 year history.