In Southern California, many are unemployed or have struggled to make a career change in the fallout of the COVID-19 pandemic. Additionally, a changing workforce and wavering economy make "keeping up" a challenge for the most vulnerable among us. This includes young adults, Veterans, seniors, and those reentering society after incarceration or other involvement with the justice system.
The Rebuilding Careers Coalition (RCC) is a giving collective of visionary individuals and corporations in our community who are dedicated to helping individuals overcome barriers and achieve meaningful employment. RCC members generously give unrestricted donations of $1200 or more annually. These funds provide Working Wardrobes clients with a comprehensive range of workforce development services and linkages to supportive services that assist low-income, unemployed, and underemployed individuals.
The RCC supports the mission of Working Wardrobes by funding a full range of career readiness services, including workforce readiness certifications, career resources, workshops, workplace excellence training, job development, critical needs assistance, customer service training, technology training, wardrobing, and retention services. These programs are designed to meet job seekers where they are in their journey, and guide them to maximize their talents, provide them with skills, and prepare them for interviews with a polished resume and success suit to match. 
Working Wardrobes is Helping Job Seekers in Our Community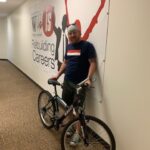 Justin came to us determined to become a drug and alcohol counselor. At the time, he was staying at a sober living home and knew that he would need to get a job in order to accomplish his long-term goal. With Working Wardrobes' help, he landed his first job after being released from prison as a delivery and sales associate for an electric bike company. With continued help, he was able to "level up" and currently works for a motorcycle company as their warehouse manager.  Throughout his employment journey, Justin continues to progress toward his goal of becoming a drug and alcohol counselor. Working Wardrobes has helped him become CPR certified and he is in the process of completing his RADT certification.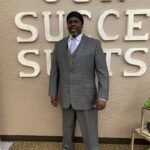 Bruce wrote "It all started out with a 9am appointment. Except, I had problems with the map application on my phone. I got lost and arrived at 4pm. Although I was late, the wardrobe service specialist took me in and helped me find a suit I would only have dreamed of owning. I feel like a new man, ready to conquer the world."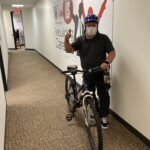 James was referred to Working Wardrobes by a friend. He has a history of substance abuse and had been living in motels for a year. In December, he was employed by a staffing agency to work at a cookie factory warehouse in Santa Ana. He came to Working Wardrobes in need of work clothes and supportive services. We provided him with work-appropriate attire to get him started, and also provided him with 30-day bus passes so he could get to work. This was only possible thanks to unrestricted donations! James has since come to the Working Wardrobes Career Success Center to express his gratitude for the immense help he received. We continue to support James in his career and be a resource for him.
You Can Help by Joining the Rebuilding Careers Coalition
The Rebuilding Careers Coalition has four levels at which businesses or individuals can join. Members that join the coalition receive invitations to exclusive networking and featured speaker events, and additional perks related to their level of commitment. With even more Coalition members, we can make a difference in the lives of individuals, families, and the Orange County community as a whole.
Join the Rebuilding Careers Coalition Today!
For more information and to join the Coalition visit: workingwardrobes.org/RebuildingCareersCoalition or email us at: rebuildingcareers@workingwardrobes.org
About Working Wardrobes
Working Wardrobes is Orange County's foremost workforce readiness nonprofit, providing the tools to at-risk men, women, young adults, and Veterans so they can achieve the dignity of work. Founded in 1990 by Jerri Rosen, Working Wardrobes has been serving Southern California for over 30 years by providing assessments, job training, career placement, and wardrobe services to almost 115,000 clients to overcome barriers to employment and achieve the Power of a Paycheck™. For more information, please visit www.workingwardrobes.org.