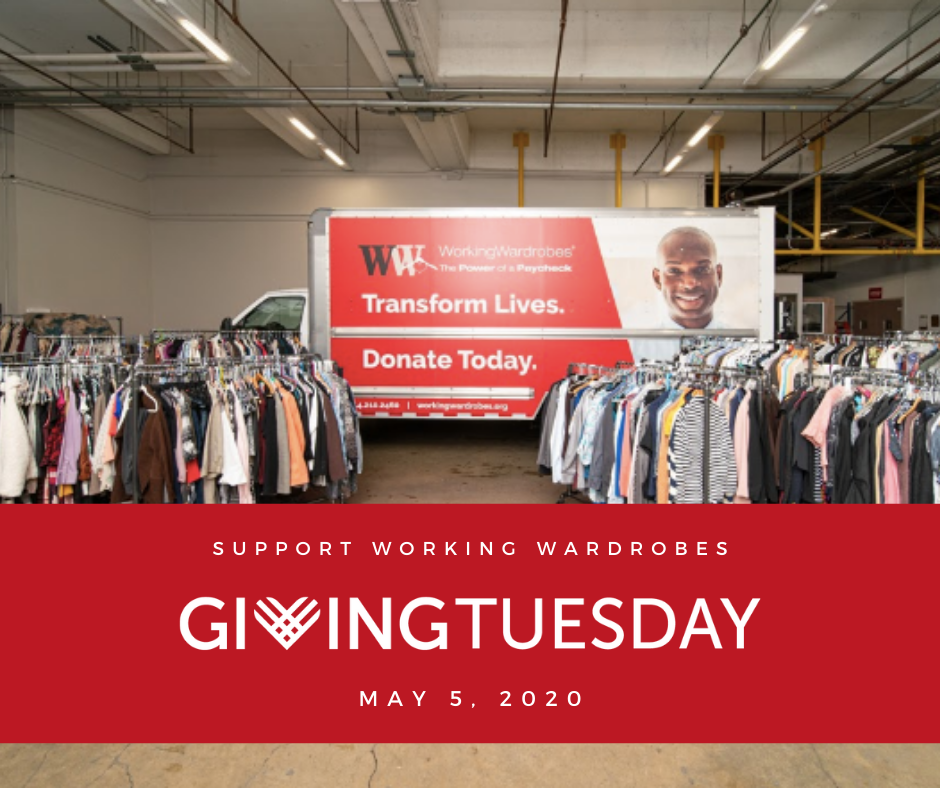 Never in our 30 years of serving clients in Orange County has the mission of Working Wardrobes been more relevant than it is today.  With one in five Californians out of work, #Giving Tuesday 2020 becomes a huge opportunity for our community to help us provide essential workforce readiness and employment support services to thousands of unemployed people.
COVID-19 is just one of the many challenges our clients face.
So on #GivingTuesday, what we want more than anything is for you to consider selecting Working Wardrobes as your charity of choice.
When you support us, you truly help us rebuild the economy with people who are capable, ready, and committed to get back to work.  We are poised to help people rebuild their careers and lives.
We have pivoted our on-site operations after the February 2nd fire that destroyed our headquarters – and now COVID-19 – to continue to deliver on our mission, seamlessly. This time, we're providing our services across digital channels.  And when our world settles, we will be back up and running in our new Career and Donation Centers.
Until then, your support on #GivingTuesday will help us serve our clients, and our Orange County community, without missing a beat.  Your contributions, big or small, will make a tremendous difference in the lives of others.

We will re-emerge after COVID-19 with restored energy and confidence; we will always be driven to help our clients achieve the Power of a Paycheck – and a brighter future.
Thank you so very much for your support.  We love and appreciate you.